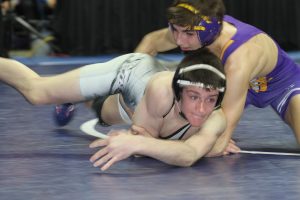 Ankeny Centennial's Ben Monroe ran into a proverbial buzzsaw on Saturday night at Wells Fargo Arena.
You might even call it a Biscoglia Buzzsaw.
Waukee's top-ranked Kyle Biscoglia turned in a dominating performance to win his third state wrestling title, posting a 9-2 decision over the sixth-ranked Monroe in the Class 3A championship match at 120 pounds.
"He's a great competitor," Monroe said of Biscoglia. "He's strong. He's a good guy, and he works hard."
Monroe finished his sophomore season with a 39-7 record. He also placed second as a freshman, when he took runner-up honors at 106.
"It motivates me even more this year (to lose again)," Monroe said. "I was (in the finals) twice. I gave myself two chances, and I failed both times. I've got to work harder."
Centennial coach Jay Groth also vowed to work harder to help Monroe get over the hump.
"I told Ben, 'That's twice now we've been the runner-up, and that's not going to happen anymore. We're going to be on top the next two years,'" Groth said. "And I'm looking forward to that."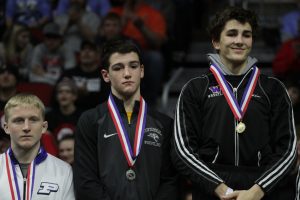 Monroe simply didn't have any answers for Biscoglia, who completed a perfect season at 51-0. The Northern Iowa-bound senior also helped the Warriors to a second-place finish in the team standings behind Fort Dodge, which claimed its first crown since 1985.
Biscoglia got the first of his three takedowns with 1 minute 11 seconds left in the first period. After letting Monroe escape, Biscoglia quickly got another takedown to build a 4-1 lead.
Biscoglia picked up another takedown in the second period, then added a three-point near fall at the end of the period to make it 9-1.
"If Kyle's got any weaknesses, we didn't find them today," Groth said. "He's a hammer on top, and he really did a great job. He's a three-time state champ, and he proved why. I thought Ben wrestled hard and got after it and brought the fight, but we just didn't have enough of it today."
In the third period, Biscoglia started on top and nearly rode Monroe for the entire 2 minutes. Monroe finally escaped with 12 seconds left to avoid losing by a major decision.
"When (Biscoglia) got on top, he'd find that wrist and get that ball-and-chain ride on us," Groth said. "Ben said he couldn't move on the bottom. He was going three different directions at the same time and couldn't get out."
Monroe was one of two placewinners for Centennial, which also got a fourth-place finish from Logan Neils at 160 earlier on Saturday. The Jaguars posted the best finish in school history, tying Des Moines East for 12th place with 43.5 points.
Monroe didn't sound like someone who was going to celebrate his runner-up finish after the tournament.
"This motivates me to work harder in the future," he said. "I just have to put more time into it and seize every opportunity."