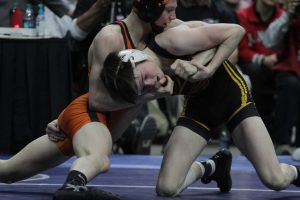 On Saturday night at Wells Fargo Arena, Caleb Rathjen was 2 minutes away from winning his first state wrestling title.
Now, the Ankeny freshman will have to wait 365 days to get another shot at winning a crown.
Valley's top-ranked Nick Oldham rallied in the third period to beat the second-ranked Rathjen, 10-8, in the Class 3A championship match at 113 pounds.
"The loss is going to motivate me a lot," said Rathjen, who finished the season with a 20-2 record. "It's going to be a lot of my motivation for next year to come back and get the state title that I didn't win this year."
Rathjen was trying to become Ankeny's first state champion since 2012, but he was unable to hold a 6-5 lead in the final period. Oldham (39-1) got a reversal with 1 minute 23 seconds left to take a 7-6 lead, then added a three-point near fall with about 20 seconds remaining.
Rathjen got a reversal in the final seconds, but it wasn't enough.
"Caleb wrestled his heart out," said Ankeny coach Jack Wignall. "Considering where he was three weeks ago in a boot, to give himself that opportunity to wrestle in the state finals–especially as a freshman that battled a couple of injuries–it's short of amazing really. And to put that kind of performance out when he's probably 85 percent right now. You couldn't tell it, but coming off that injury he's just not quite 100 percent yet. I think the lack of mat time probably hurt him a little bit."
Rathjen, who missed nearly two months of the season due to an ankle injury, was already familiar with Oldham. The two have worked out together at Sebolt's practice facility in Ames.
Rathjen got in on Oldham's leg early in the match, but couldn't take him down. Instead, Oldham somehow got a takedown about 30 seconds into the first period.
Rathjen later appeared to be on the verge of a reversal when Oldham took him to his back for a two-point near fall.
"I should have got those first couple of points in the first period," Rathjen said. "I shot a single to the left side, and I usually hit that shot to the right side. I wasn't very comfortable there, but I should have been able to take him down. Then I got off-balance, and he put me to my back."
Rathjen was able to dig himself out of the 4-0 hole, but the damage had already been done.
"If he takes (Oldham) down and does what he typically does, you don't have to worry about those back points," Wignall said. "He just probably was not as sharp as he could have been if he'd have had 40 matches this season instead of 20. It makes a difference."
Rathjen got on the scoreboard with a reversal about 20 seconds into the second period. After Oldham escaped, Rathjen got a takedown and a two-point near fall in the final seconds of the period to take the lead.
"I had a front headlock and I ended up reaching through to a cradle," Rathjen said. "Instead of taking him back toward my way, I kind of pushed him over and went the opposite way. I've hit that cradle multiple times. I like hitting it that way instead of coming back. I feel like it's safer and more comfortable for me."
Rathjen had the momentum heading into the third period, but he was unable to turn Oldham onto his back. The Valley junior eventually executed his five-point move to secure his first state title.
"(My conditioning) definitely could have been better, but I don't know if I'd say it was the key, deciding factor in that match," Rathjen said. "It could have been better. It's hard when you're out for almost two months, but there's nothing I can do about it now."
Wignall refused to make any excuses for Rathjen, whose only other loss came to nationally-ranked Vincent Zerban of Christian Brothers College in early December.
"The kid wrestled a phenomenal match," Wignall said. "He just came up a little short."
Rathjen was joined on the awards podium by teammate Spencer Anderson, who earned a seventh-place finish at 132 earlier on Saturday. The Hawks placed 21st in the team standings with 26.5 points.
"Last year we had our first state placewinner (in Ben Schiltz), and now this year we had two placewinners," Wignall said. "As long as we keep doubling it every year, I'm going to be a really happy man."