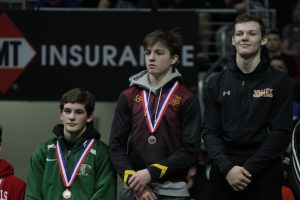 Caleb Rathjen is the Ankeny Fanatic prep of the week sponsored by Revive Clinic and Spa. The Ankeny freshman placed second at 113 pounds in the Class 3A state wrestling tournament on Saturday at Wells Fargo Arena.
Rathjen advanced to the finals before dropping a 10-8 decision to top-ranked Nick Oldham of Valley in a seesaw match. He compiled a 20-2 record for the Hawks, despite missing nearly two months of the season due to an ankle injury.
Here is some inside info on Rathjen:
Congratulations on an outstanding season. Overall, were you happy with the way you performed?
I was happy with the way I performed. Even in the finals match, I went out there and stayed on my attacks, stayed offensive the whole match, and I just made a couple of mistake that he capitalized on.
I know the championship match obviously didn't turn out the way you wanted it to. Have you replayed the match in your mind over the last 36 hours, thinking about anything that you could have done differently?
I have watched the match a couple times. I don't think I would've done anything differently. I felt like I was the aggressor the whole match. I just probably needed to stay a little more calm and not get rushed and sloppy a couple times with my technique.
You told me that you and Oldham have worked out together at Sebolt's practice facility in Ames. Would you say that you and Nick are friends, and did that have any kind of impact on the match?
I wouldn't consider me and Nick friends, and I don't think working out with each other a couple times throughout the year had any impact on how the match played out.
You came into the season with some high expectations, but the ankle injury certainly slowed you down. When did you suffer the injury, and how did it occur?
I fractured the growth plate in my right ankle in the beginning of January during a wrestling practice.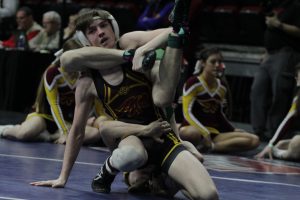 Coach Wignall said he thinks you were probably about 85 percent healthy by the end of the state tournament. Would you agree with him?
Yes, my conditioning faltered a little bit in the four to six weeks off and my ankle still gets sore here and there.
You were just one win away from capturing a state title as a freshman, which would have been the first step in possibly joining the ranks of the four-time state champions. Is that a goal that you ever thought about?
That has been one of my goals since I was a little kid. It sucks to know that I can not achieve that now, but I've got to focus now on going and getting the next best thing and that's three state titles.
Did you see the reaction of Iowa City West's Nelson Brands to winning his third title? The first thing he thought of was the championship that he didn't win. If you're ever in that position, do you think you'll be able to enjoy it or will you think about the one that got away?
I think I will be able to enjoy it. I have learned in wrestling to have a short-term memory. I have put that match behind me and now I'm moving forward torward my next goals.
I know your dad, Kirk, was a state champion at 170 pounds for Iowa Valley (Marengo) in 1991. Was he the person that sparked your interest in wrestling?
He was the one that first got me into wrestling. I don't remember how, but I'm sure glad he did.
Your brother, Cole, wrestles at 195 pounds for the Hawks. Do you think you'll ever be as big as he is?
I'm not sure if I'll get to his size, but I know I'm bound to grow here at some point.
Coach Wignall said he does expect you to go through a growth spurt–he just doesn't know when it will happen. Looking ahead to next year, what weight class do you think you'll be wrestling at?
I would guess I will be around 126-132. It all depends on what my body does.
It's possible that you and Ben Monroe, Ankeny Centennial's two-time state runner-up, could be in the same weight class either next year or the year after. Have you ever wrestled Ben, and if so how did you do?
I have never wrestled against Ben, but I have worked out and practiced with him throughout my middle school years.
I know it's a few years away, but I'm sure you'd love to wrestle in college. Are you starting to hear from any college coaches?
Yes, I have started to hear from a few.