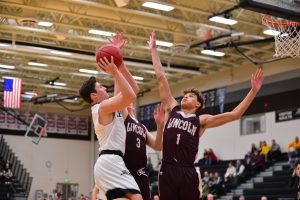 Ankeny Centennial boys' basketball coach Bob Fontana was hoping that his players learned a valuable lesson on Friday night.
Monday's game against the same opponent showed that the Jaguars possibly didn't get the message.
Three days after Centennial let up in the second half of a 66-52 victory over Des Moines Lincoln in its regular-season finale, the Jaguars blew a 15-point lead in a Class 4A substate quarterfinal before escaping with a 46-39 triumph on their home court.
"We went into coast mode again," said Fontana. "I keep telling the guys that we can't do that, especially this time of the year."
Zach Kluver scored 15 points as Centennial improved its record to 14-8 on the season. The Railsplitters finished 5-18.
"Heading into the first game we knew that (Lincoln) was not going to back down at all," said Kluver, who also contributed four rebounds, two assists and three steals. "So after Friday's game we knew they would come with all they had and they did, but luckily we had enough to pull it out. The game got a little chippy, but I like that and so do the rest of my teammates."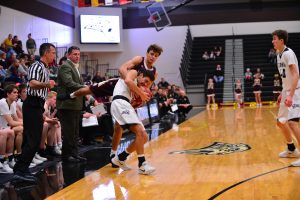 The two squads had to be separated after Centennial's Hunter Strait was fouled while going for a loose ball in front of the Jaguars' bench early in the fourth quarter.
"There was a long rebound and Hunter was running after it, and one of their players grabbed him around the neck and tossed him to the (floor)," Fontana said. "Our guys came running in, and the next thing you know the refs are separating everybody. It was a very hard foul. Honestly, I'm shocked that it wasn't an intentional foul."
The Jaguars overcame an off-night by Strait. Their leading scorer had just eight points on 3-of-14 shooting, but fellow seniors Kluver and Jackson Brannan helped pick up the slack.
Brannan scored 10 points and did not miss a single shot.
"Things did get a little chippy, but that's what happens when the season is on the line," Brannan said. "No games in substate are easy. Anybody can beat anybody on any given night."
Brannan went 3-for-3 from the field, including a pair of 3-point goals. He also hit two late free throws to seal the victory.
"Jackson had a nice floor game for us," Fontana said. "And I thought Kluver had a really good game at both ends of the floor. He held their leading scorer to five points."
Centennial jumped out to a 19-4 lead in the first half. The Jaguars duplicated their fast start from Friday's game, when they built a 33-8 halftime advantage.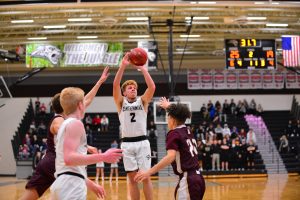 However, the Railsplitters then rallied, closing the gap to 25-21 at the break.
"Lincoln hit some shots and we had four or five bad possessions offensively, and then we had three consecutive defensive breakdowns in the last 2 minutes of the half and they converted on all of them," Fontana said. "Just like that, we're only up by four at the half."
The Railsplitters eventually tied the score in the second half before Centennial pulled away. The Jaguars held a 42-39 lead with 4:06 left, then held Lincoln scoreless the rest of the way.
"It was a dogfight," Fontana said. "Fortunately, we hit some big baskets and ended up closing the deal."
The third-seeded Jaguars will play at second-seeded Valley (14-7) in a substate semifinal on Friday at 7 p.m. The Tigers won both meetings against Centennial during the regular season.
"It's all about survive and advance," Fontana said. "That's what we did, and that's the most important thing. Now we can get ready for Valley."