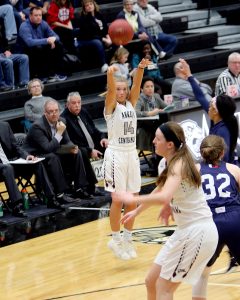 Seniors Chloe Olson and Sydney Wycoff of Ankeny Centennial have been named to the Class 5A West all-district girls' basketball team along with junior Sara McCullough of Ankeny. The all-district teams were selected by the Iowa Girls' Coaches Association.
Olson, a forward, has led the Jaguars to a 19-3 record and a No. 5 ranking in Class 5A. She leads the team in scoring and rebounding, averaging 12.1 points and 8.2 boards per game.
Wycoff, a guard, averages 9.0 points and 3.2 rebounds. She leads Centennial with 61 assists and 42 steals.
McCullough, a forward, has led the Hawkettes to an 11-11 record, their best season since the split into two high schools. She leads the team in scoring (16.5), rebounding (7.1) and blocks (1.5).
McCullough also leads Ankeny with 51 3-point goals. She is shooting 49.0 percent from behind the arc.