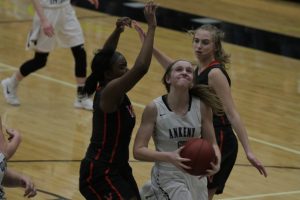 In order to reach the state tournament, the Ankeny and Ankeny Centennial girls' basketball teams will both have to figure out a way to slow down one of the nation's top players.
The fifth-ranked Jaguars (19-3) will host No. 12 Valley (12-10) in a Class 5A regional final on Tuesday at 7 p.m. It will be a matchup of the last two state champions–Centennial won the crown in 2016 before the Tigers claimed last year's title.
Valley is led by junior guard Zoe Young, a Maryland recruit and one of the nation's top prospects in the Class of 2019. She scored 25 points in a 69-37 victory over Ottumwa on Saturday.
"Everybody's got a tough game in the regional final with the depth (of Class 5A)," said Centennial coach Scott DeJong. "We just know we're going to be ready to go."
Ankeny (11-11), meanwhile, travels to Dowling Catholic for a regional final against the No. 3 Maroons (19-3), beginning at 7 p.m. Dowling is led by sophomore guard Caitlin Clark, who poured in 30 points in an 80-53 win over Fort Dodge on Saturday.
After the Hawkettes advanced to the regional final with a 57-41 triumph over Des Moines Lincoln, Ankeny coach Dru McAnelly was asked what his team needed to do in order to contain Clark, who is considered the nation's No. 1-ranked player in the Class of 2020.
"Hope she doesn't play," McAnelly cracked.
That strategy actually worked for Centennial earlier this season. The Jaguars posted a 50-37 victory at Dowling on Nov. 28 when Clark did not play.
However, the Hawkettes are not expected to be as fortunate. They will most certainly have to deal with Clark, who is averaging 27.2 points per game.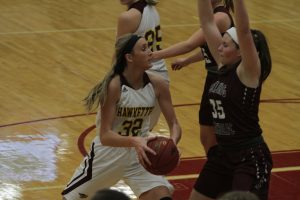 Ankeny opened its season on Nov. 20 with a 70-38 loss to the Maroons. Clark had 23 points, nine rebounds, four assists and five steals in the win.
"We'll throw some different stuff at them," McAnelly said. "Basically, the first time we played them we had 27 turnovers. We have to take care of the ball, and we have to attack on offense. You know they're going to score some points. We have to make them work for what they get and then obviously don't give up second-chance points. If we can limit turnovers, rebound the basketball and hit some shots, we'll have a fighting chance."
Ankeny will likely need another big game from junior forward Sara McCullough to pull off the upset. The Northern Iowa recruit averages 16.5 points and is coming off a 22-point outing against Lincoln on Saturday, when she made 8-of-10 shots and went 3-for-5 from 3-point range.
"I think we can play with them," McCullough said. "The first time was our first game, and we were just getting used to playing with each other. We've definitely gotten better, so I think it'll be a good game."
Valley has also improved during the second half of the season. The Tigers were 5-8 at one point after losing at Ankeny on Jan. 12, but have now won seven of their last nine games.
This will be the third meeting between the two CIML Central Conference rivals. The Jaguars posted a 55-43 victory at Valley on Dec. 15, then won the rematch at Centennial, 63-57, on Jan. 19.
Young, who averages 22.9 points, was held to 13 points on 5-of-19 shooting in the first game. She went 4-of-7 from behind the arc and had 26 points in last month's game, when Valley took a 26-22 halftime lead before the Jaguars rallied.
"Really, none of that matters at all," DeJong said of the previous games.
Centennial is seeking its 11th consecutive victory. Chloe Olson had 11 points, 13 rebounds and four steals in the Jaguars' 52-39 win over Urbandale on Saturday, despite being diagnosed with Influenza B earlier in the day.
"We hope she'll feel better by Tuesday, and we hope that nobody else comes down with this stupid stuff," DeJong said.
Centennial guard Sydney Wycoff said the Jaguars are ready for the challenge.
"In order to beat Valley, I think we need to have great preparation which starts in practice and we need to keep playing like we have been the past couple of days," she said. "We need to focus on our defense and finishing our shots."