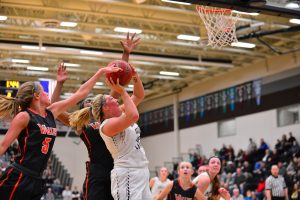 This wasn't the same Ankeny Centennial girls' basketball team that was riding a 10-game winning streak.
It certainly wasn't the same Valley squad that had lost six consecutive games earlier this season.
The 12th-ranked Tigers used a 25-point fourth quarter to post a 58-44 victory in a Class 5A regional final on Tuesday at No. 5 Centennial. The game was a matchup between the last two large-school state champions.
"We didn't play our best for sure, and I thought Valley played really well," said Centennial coach Scott DeJong. "That was a bad combination tonight."
Shea Fuller scored 16 points and Zoe Young added 13 as Valley (13-10) earned a return trip to the state tournament after winning last year's crown. The Tigers had lost to Centennial (19-4) twice during the regular season.
"We came in here with confidence and really just a lot of optimism," said Young, who also had eight rebounds, four assists and three steals. "We know Centennial is a tough team–they play hard and they play really good defense. All week long, we worked on ways to speed up the game and score on them. We came in here with a lot of faith that we could beat them."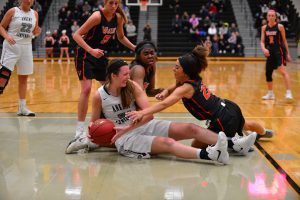 Valley's speed and scrappy defense proved to be the difference. Chloe Olson scored 16 points and grabbed 12 rebounds to lead Centennial, but the Jaguars were unable to take advantage of their superior size.
"We thought we could crush them inside, but they played really good defense tonight," OIson said. "And the refs were calling it both ways. It was just a tight game."
Centennial also struggled to score from the perimeter, making just 4-of-17 3-point attempts. That, combined with some costly turnovers, made it difficult for the Jaguars to get the ball inside to their post players.
"Our stats showed us with 13 turnovers, but it seemed like 23. We just had some bad ones," DeJong said. "We had a hard time scoring inside, and that's been our game. We had some good shots, but it seemed like we missed a lot of them."
Centennial rallied from a 30-21 deficit to tie the game at 30 on a pair of free throws by Olson with 1 minute 31 seconds left in the third quarter. Valley then took the lead for good when Fuller converted a 3-point play with 7 seconds to go in the period.
A 3-pointer by Meg Burns pulled the Jaguars to within 36-35 with 6:46 remaining, but Valley then answered with a 15-2 run to seal the victory. Young ignited the spurt by passing to Libby Helverson for a layup, then finding an open Fuller for a 3-pointer.
Grace Plummer later made her third 3-pointer of the game to give the Tigers a commanding 51-37 advantage with 2:26 left.
"They went with a small lineup, and we had some trouble in transition getting back on defense," DeJong said. "We had a couple of breakdowns, (Young) was passing the ball well, and they had some other kids step up. And when you get behind, we probably panicked a little bit."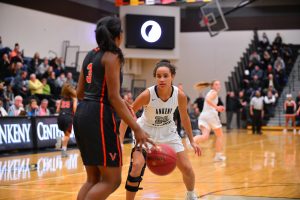 Young, a junior guard and a Maryland recruit, also played a key role on defense, setting a Valley single-game record with nine blocks. She guarded Olson most of the game, trying to keep the Centennial senior out of the lane.
"Chloe's an incredible athlete," Young said. "She's strong, and she's powerful. But all weekend long we even had me going against the coaches a little bit, just working in there and getting the fundamentals of fronting the post down. I felt like I did a pretty good job."
Olson, who had 10 of Centennial's 19 first-half points, was diagnosed with Influenza B on Saturday. She said she got tired in the second half.
"I thought I was (100 percent), but I wasn't, I guess, at the end of the game," Olson said. "It was getting hard to breathe."
The Jaguars overcame a rash of injuries and illnesses to win the CIML Central Conference title this season. DeJong said he was proud of his team's accomplishments.
"We don't want to make excuses, but we did have a lot of adversity with kids being out of the lineup for various reasons," he said. "With our schedule, we've really had an awesome season with the teams that we've beaten."
Valley coach Joe Sigrist told DeJong before the game that it was a shame that one of the teams would have to go home.
"They were 19-3, and they were the conference champions in the toughest conference in the state by far," Sigrist said of the Jaguars. "Scott's a phenomenal coach–probably one of the best ever to coach girls in the state of Iowa or maybe the country. We're real proud of our kids that we could beat such a well-coached team."