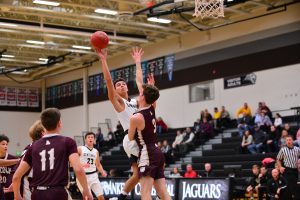 The Ankeny boys' basketball team will face a familiar opponent in a Class 4A substate semifinal on Friday. So will crosstown rival Ankeny Centennial.
The fifth-seeded Hawks (8-14) will travel to Des Moines North to play the top-seeded Polar Bears (19-3) at 7 p.m. The two teams are meeting in the postseason for the third consecutive year.
The third-seeded Jaguars (14-8), meanwhile, will play at second-seeded Valley (14-7). The CIML Central Conference rivals are meeting in substate play for the fourth time in five years.
Centennial is still seeking its first postseason victory over the Tigers. The Jaguars also lost twice to Valley during the regular season, 49-46 and 43-41.
"We've lost by two and three points, and we can point to a possession here or there that decided the game," said Centennial senior guard Jackson Brannan, who missed a desperation 3-pointer at the buzzer in the first meeting at Valley. "So yeah, we're confident we can beat them."
The Jaguars are coming off a 46-39 victory over Des Moines Lincoln in Monday's quarterfinal round. Zach Kluver had 15 points and four rebounds in the win.
"We have had physical games all year, and we have played Valley twice so we know what we have to do," Kluver said.
In last month's game at Centennial, Valley guard Trayvon Williams blocked a 3-pointer by Hunter Strait in the final seconds to preserve the Tigers' win. The Jaguars shot just 31.8 percent from the field (14-of-44).
"It was just a slugfest," said Centennial coach Bob Fontana. "Both teams played hard and played good defense and made it hard for the other team to score. We've got to win the free-throw line on Friday, and it's going to take a total team effort. It can't just be two or three guys. It has to be eight or nine guys."
That victory sparked an eight-game winning streak for the Tigers, who have not lost since Australian Derek Emelifeonwu joined the team's lineup. The junior is averaging 7.8 points per game.
Valley has allowed an average of 41.8 points during its winning streak.
"No. 1, we've got to rebound," Fontana said. "We have to keep them in front of us and keep the ball out of the lane. Offensively, we've got to have quality possessions. We can't have four or five good possessions and then four or five empty ones. That's what we did against Lincoln. We'd have those really good runs and then we'd have bad lulls."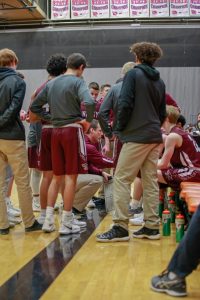 While the Centennial-Valley matchup figures to be another defensive battle, the Ankeny-North contest is expected to feature plenty of offensive fireworks. The two teams combined for 182 points in an earlier meeting at North, where the Polar Bears posted a 103-79 victory.
North guard Tyreke Locure and Ankeny forward Ben Lyon each scored 31 points in that game. Locure, who averages 27 points and nearly seven assists per game, is one of the state's top prospects in the Class of 2019.
"I really think North is the best team around," said Ankeny coach Brandt Carlson. "It's an unbelievable challenge for us. We're just thankful to be in the game, and we'll go do what we can. It'll be fun."
Dillon Carlson made seven 3-pointers and scored 25 points in the Hawks' 48-46 win at Ames in the quarterfinal round. The sharpshooter did not play in the first game at North.
"They're pretty tough to guard, but at the same time they'll have a tough time guarding us," the junior guard said. "It should be an offensive battle."
Ankeny defeated North in a substate semifinal in 2016 before the Polar Bears got some revenge last season, posting an 88-68 victory in a substate final at Dallas Center-Grimes. That win allowed North to advance to the state tournament for the first time since 1991.
The Polar Bears are clearly favored to win, but they are coming off a 62-61 loss at Marshalltown in their regular-season finale on Feb. 16.
"We've been the underdog all season," Dillon Carlson said. "We have nothing to lose really. Just give a great effort and see what happens."
The Hawks aren't planning to try to slow the game down.
"It's one of those situations where you really have to play their game," coach Carlson said. "I don't think you can change the style. You just have to be really aggressive offensively and not get caught up in their way of playing defense with steals and all those things. You have to take care of the ball and get a shot on every possession. We've played them now I don't know how many years in a row in the tournament, so we're kind of used to it. Our guys wanted a second shot at them, and now we've got it."