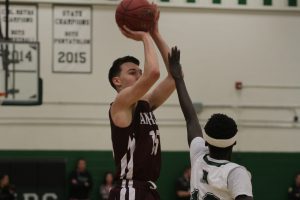 Ben Lyon is the Ankeny Fanatic prep of the week sponsored by Revive Clinic and Spa. The senior wing helped the Ankeny boys' basketball team to an 8-15 record this season.
Lyon averaged 10.7 points and a team-high 8.2 rebounds per game. He also led the Hawks in assists (3.5) and blocks (2.2).
Here is some inside info on Lyon:
Congratulations on your strong all-around season. Did you try to be a leader for the team?
I did. I tried to be anything our team needed me to be. I knew coming into this year that we were going to be young so I really tried to be that steady figure in the locker room and on the court.
Your team obviously experienced some ups and downs, including a 1-10 start to the season. Do you think the slow start was a result of the team's youth and inexperience?
Yes, I do think so. Honestly, I don't know how you call our 1-10 start slow. I think we lost seven of those games by five points or less. We just couldn't get it done when we needed to. I thought the guys were playing great; we just needed to sharpen up some stuff late in games and that came with maturity from our young guys.
Your squad won five of six games during one stretch late in the season, including wins over Ankeny Centennial and Waukee. What was the highlight of the season for you?
Both those games were great and really fun to be a part of, but my highlight was my team. Spending every day at practice with them and on the weekends hanging out together and growing with them…that was the most fun I've ever had on a basketball team.
You scored 31 points in a loss at Des Moines North back in December. Do you think that was the best game you've ever had?
Points-wise, yes. But the game is so much bigger than that. My favorite games are my double-doubles. Probably my best stat line came at Indianola with 23 points, 17 rebounds and seven blocks. It's not all about me scoring. I like to do some stuff no one else likes to do. I find enjoyment in that.
You finished with 10 points on Friday as your team ended the season with an 87-73 loss at North in a Class 4A substate semifinal. Did the Polar Bears defend you any differently this time?
Yes, they did. I got face-guarded in the first half. Then I thought it was fairly normal.
You spent part of the game defending North guard Tyreke Locure, who ended up with 36 points. How were you trying to defend him, and is he pretty much unstoppable?
Tyreke is a different breed of player. If you look at his stat line, you'll say one of two things. One, no defense was being played. Or two, that he's just that good and makes everything, and I believe it was the latter. I thought Jordan (Kumm) and me both did a good job on him from watching film, and that Tyreke is so good that he just hit some shots over our fingertips. He made shots that you just have to turn around and tip your hat and move onto the next play because there's nothing you could've done better. As for how I was trying to guard him, I was trying to give him a little bit of space while closing it with my length. I was just trying to keep him in front, make him shoot tough shots, and he made those tough shots so you've got to give him props for that.
Are you planning to attend any of the games at the state tournament? Would you like to see one of the CIML teams win the Class 4A crown?
Absolutely, I'm going to attend. I would like to see someone from the CIML get the title just because I think it's the toughest conference in the state of Iowa and I know a lot of people in the CIML, and it would be great for them to get a ring.
Looking ahead, do you see a bright future for the Hawks with the talent they have coming back?
I expect us to be back in the state tournament. We've got so much talent, and I think this year did us well with growing up and experiencing the level of competition in the CIML. We'll be getting a couple guys back, Braxton Bayless specifically–and he will really help our team out. I think if they stay healthy they can really push for that (state) title. I really believe that.
Where are you at in the recruiting process? Do you have some offers?
I've got a lot of interest from some DII (schools) all the way down the line, but no offers yet. I think I will be playing summer ball as an unsigned senior and go from there.
Did you watch this year's NBA All-Star game? What did you think of the new format?
All I saw from the All-Star game was the national anthem (by Fergie), and it was really, really bad! However, I do like the captains' (drafting of the players). I think it makes everything more competitive and fun to watch.