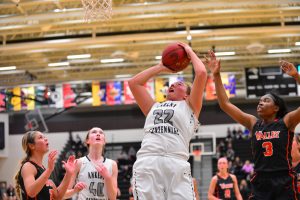 Although Monday was a rough day for the CIML at the girls' state basketball tournament, the 18-team conference still boasts some of the best talent in the state. And much of that talent will be coming back next year.
Four of the five players named to Ankeny Fanatic's all-CIML first team are underclassmen. Four of the five second-team players will also be returning next season.
The first team includes two juniors and two sophomores. One of the sophomores, Dowling Catholic star Caitlin Clark, is Ankeny Fanatic's CIML player of the year.
Here is our list of the league's top 10 players:
1st team
Caitlin Clark, 5-11 sophomore guard, Dowling Catholic: Ranked the nation's No. 1 player in the Class of 2020, Clark is drawing the attention of many of the country's top Division I programs. She led the third-ranked Maroons to a 20-4 record and a berth in the Class 5A state tournament. Clark averaged 27.1 points per game and made 71 3-point goals, despite often facing double- and triple-teams.
Shiloh McCool, 5-10 senior forward, Southeast Polk: McCool averaged a double-double (16.0 points and 10.1 rebounds) while leading the No. 7 Rams to a 19-4 record. She is also a talented passer who dished out more than four assists per game. On Feb. 6, McCool put up an amazing stat line of 34 points, 16 rebounds and seven assists to lead Southeast Polk to a double-overtime victory at Dowling.
Maya McDermott, 5-6 sophomore guard, Johnston: McDermott became the go-to player for the Dragons following the graduation of all-state center Taryn Knuth. She has connected on 54 3-pointers while averaging 19.4 points per game. On Monday, she poured in 25 points in Johnston's 73-48 victory over Waukee in the Class 5A quarterfinals. The No. 4 Dragons will take a 21-3 record into Thursday's semifinal game against No. 1 Iowa City High.
Megan Meyer, 5-9 junior guard, Mason City: Meyer averaged 25.1 points and made 71 3-pointers while leading the Mohawks to a berth in the Class 4A tournament. She shot nearly 37 percent from behind the arc.
Zoe Young, 5-10 junior guard, Valley: The Maryland recruit led Valley to the Class 5A crown in 2017 and helped the Tigers to another state berth this season by averaging 22.7 points and 7.7 rebounds. Young also played a key role on defense, often guarding taller opponents in the post. She set a school single-game record with nine blocks in the regional final against Ankeny Centennial. Young joined Clark on The Des Moines Register's recent list of the 50 best Iowa high school girls' players of all time.
2nd team
Anna Brown, 5-10 junior forward, Waukee: After starring for Spirit Lake as a sophomore, Brown moved to Waukee last year and made a smooth transition to the CIML, where she led the No. 6 Warriors to a 19-5 record. Brown averaged 15.9 points per game and made 78 3-pointers, shooting 42.4 percent from behind the arc.
Shea Fuller, 5-7 junior guard, Valley: Fuller combined with Young to form a potent 1-2 punch for the Tigers, who rebounded from a six-game losing streak midway through the season to win eight of their last 11 contests. Fuller averaged 16.0 points and made 53 3-pointers. She also rebounded well for her size, pulling down more than four boards per game.
Grace Larkins, 5-10 freshman forward, Southeast Polk: Larkins was one of the state's top newcomers, averaging 19.9 points per game for the Rams. She shot 55.3 percent from the field and also did a lot of damage at the free-throw line, where she converted 99-of-141 attempts. Larkins is a talented defender as well, coming up with nearly three steals per game.
Sara McCullough, 6-0 junior forward, Ankeny: The Northern Iowa recruit was one of the most improved players in the CIML, averaging 16.2 points and 7.0 rebounds per game. McCullough shot nearly 50 percent from 3-point range, making 52-of-108 attempts from behind the arc. She led the way as the Hawkettes posted an 11-12 record for their best season since the split into two high schools.
Chloe Olson, 5-10 senior forward, Ankeny Centennial: Olson was a double-double machine down the stretch for the No. 5 Jaguars, leading an injury-depleted squad to a 19-4 record and the outright Central Conference title. She averaged 12.3 points and 8.4 rebounds per game while shooting 51.3 percent from the field. Olson racked up 27 points and 25 rebounds in Centennial's two regional games after being diagnosed with Influenza B.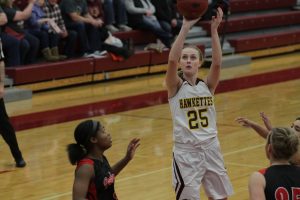 Coaches' all-conference teams
The coaches in the CIML have also released their all-conference teams. Here are the Central Conference honorees:
1st team
Chloe Olson, Ankeny Centennial*
Shiloh McCool, Southeast Polk*
Grace Larkins, Southeast Polk*
Anna Brown, Waukee*
Zoe Young, Valley*
Sydney Wycoff, Ankeny Centennial
Jori Nieman, Waukee
*denotes unanimous choice
2nd team
Rachel Schon, Ankeny Centennial
Meg Burns, Ankeny Centennial
Sara McCullough, Ankeny
Shea Fuller, Valley
Paityn Rau, Waukee
Kelly Friedrich, Ames
Caroline Waite, Ames
Honorable mention
Ames: Amara Lipsey, Teagan Lipsey, Ashley Iiams
Ankeny: Sydney Shadravan, Meghan Trimble, Kayla Pitz
Ankeny Centennial: Taylor Runchey
Southeast Polk: Rylie Kruse, Liza Sutten, Sami Albertson
Waukee: Lindsey Kelderman, Lexi Boles
Valley: Grace Plummer