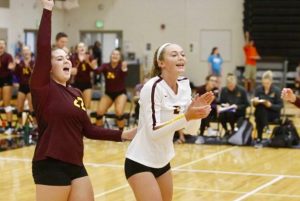 Miranda Greathouse recalls watching Jordyn Rittman help the Ankeny Centennial volleyball team to the Class 5A state title in 2014.
Now, Greathouse will have an opportunity to learn from Rittman.
The Ankeny High School libero has signed a letter of intent to play for Grand View. She will likely become one of the backups for Rittman, who is entering her senior season for the Vikings.
"I don't know Jordyn, but I know of her," Greathouse said. "I remember watching her play when I was a freshman and Centennial went to state."
Greathouse, a 5-foot-10 senior, helped Ankeny to a 22-14 record last season. She led the Hawkettes with 504 digs and also had 56 assists.
Greathouse was one of Ankeny's best servers, completing 224-of-237 attempts (.945) and recording 30 aces. She was named to The Des Moines Register's Elite all-CIML team.
As a junior, Greathouse helped the Hawkettes to a 38-6 mark, including a trip to the Class 5A semifinals. She racked up more than 1,400 digs in her career.
Greathouse said she also considered Northwestern College in Orange City before committing to Grand View.
"My brother thought about going to Northwestern so I checked it out, and I liked the campus and everything," Greathouse said. "But I liked Grand View's classes a lot better."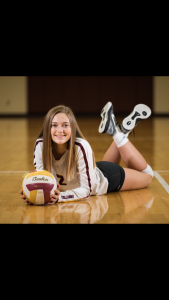 Greathouse, who plans to study criminology, said she was looking for the right academic fit.
"It was hard," she said. "I just didn't know what I wanted to do for my major, so I wanted to make sure that my education was the main thing I was looking for."
Greathouse was also impressed by Grand View's volleyball program. The Vikings posted a 34-8 record last season and were ranked No. 10 in the postseason edition of the NAIA Women's Volleyball Coaches' Top 25 poll.
"They're good, and I really like the coaches," Greathouse said. "I think they'll help me grow in college."
Rittman, a libero/defensive specialist, led the team with 750 digs in her first season with the Vikings. She transferred to Grand View after enjoying a successful career at DMACC (Boone).
Now, Greathouse will be moving to the east side of Des Moines to join forces with a former high school rival.
"It's a big relief to finally commit and be done with the college-picking process," Greathouse said.