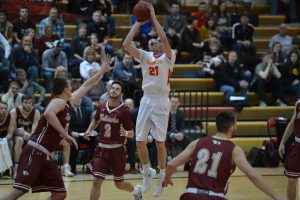 Conor Riordan knew that he needed to step up this season for the Simpson College men's basketball team.
The former Ankeny star did just that.
The sophomore point guard started all 25 games and helped the Storm to a 13-12 record. He averaged 19.4 points per game while shooting 52.1 percent from the field.
"I put in a lot of work in the offseason," said Riordan, who averaged 5.2 points and just 10.7 minutes per game as a freshman. "Last year we had a lot of seniors, so I knew the team was going to look to me to be more of a threat offensively and be more of a leader. Ball screens are a huge part of our offense here, so I worked a lot on that. I was able to make a lot of plays off of those, and my 3-point shot was more consistent. Just being able to score the ball more consistently was a big emphasis of mine."
The 6-foot Riordan played his best basketball down the stretch, averaging 21.1 points during January and 23.2 during February. On Feb. 7, he erupted for a career-high 39 points in the Storm's 96-85 win over rival Central.
Riordan went 14-of-17 from the field against the Dutch, including 5-of-6 from 3-point range. He also made all six of his free throws.
"(Central) did a good job of doubling Sam (Amsbaugh) in the post, so a lot of us were able to get good looks," Riordan said. "Overall, we shot really well as a team that night, and when everyone else is shooting well it makes it easier and it makes you more confident when you're shooting."
Amsbaugh, a 6-5 senior, led Simpson in scoring with a 19.8 average. His presence on the court often created some driving lanes for Riordan.
"Our post is really good, and he caught a lot of attention this year," Riordan said. "That definitely opened up some opportunities for me. I was pretty happy with the way I performed, but I'm looking to keep improving the next couple of years."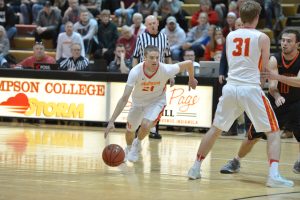 Riordan still possesses a deadly mid-range jumper, a shot that is becoming increasingly rare in the modern game. As a junior at Ankeny, he made one of those jumpers with 9 seconds left to give the Hawks a 50-49 victory over rival Ankeny Centennial.
"I'm glad I have that shot in my arsenal, and I hope I can continue to be successful with it," Riordan said. "It's definitely something I take pride in. Being able to knock down that shot was big, but I've been trying to add other elements to my game and become more of an all-around player."
Riordan has also demonstrated an ability to score from behind the arc. He shot 33.6 percent from 3-point range, making 49-of-146 attempts.
Perhaps more importantly, Riordan took care of the ball, compiling a 2.9 assist-to-turnover ratio. He became one of the leaders for coach Brad Bjorkgren's young squad.
"I think for point guards it's important to step up into that leadership role," Riordan said. "I definitely tried to be more vocal this year and just lead by example when I'm out there. Play as hard as I can in practice or whenever I'm on the court."
Bjorkgren came to Simpson in 2015 after a 27-year stint as the head coach at Urbandale High School, where his J-Hawk teams regularly competed against Ankeny. Riordan became one of his first recruits when he committed to play for the Storm.
"Coach B's a great coach. We have a really good relationship," Riordan said. "He always reiterates that he's got my back, and I've always got his back. I just really like the style that we play with. We play up and down, and he's just always got confidence in you. And that's nice to know that he's got your back like that."
Riordan could become the second former Ankeny player to earn all-Iowa Conference honors for the Storm in recent years. Zack Barragan was a first-team pick in the 2011-12 season.
"Our coach still talks about Zack. He was really able to create shots for himself coming off screens," Riordan said. "Zack's a good guy, and I've played against him in the summer, too. It's cool to have that Ankeny connection."
Although Amsbaugh will graduate, the rest of Simpson's roster will return next year. Riordan is hoping that the Storm can move from the middle of the pack to the top of the Iowa Conference standings.
"I'd like to be a little more consistent next year, and I think a lot of guys are going to step up," he said. "I'm hoping team-wise we'll be a little more successful just from having a little more experience."