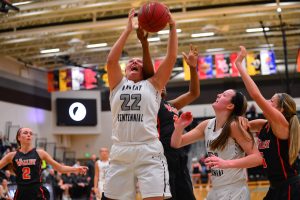 Chloe Olson is the Ankeny Fanatic prep of the week sponsored by Revive Clinic and Spa. The senior forward helped the Ankeny Centennial girls' basketball team to a 19-4 record this season.
Olson averaged a team-high 12.3 points and 8.4 rebounds per game for the Jaguars. She made 51.3 percent of her shots from the field.
Here is some inside info on Olson:
Congratulations on an outstanding season. What was the highlight for you?
Thank you. The highlight of my season was being the outright (Central) Conference champions. Our conference is one of the best in the state so it's always a great accomplishment to win it.
Your team dealt with a lot of injuries and illnesses, and you were diagnosed with Influenza B during the regional tournament. Have you recovered from it?
Yes. I told my mom I was playing no matter what. Everyone on my team had already been exposed and there was no way I was going to miss a regional game my senior year.
Did you attend any of the games at the state tournament?
No. I was focusing on school, and it was still a sore subject (after Centennial lost to Valley in a regional final).
Were you rooting for one of the CIML schools to win the Class 5A title?
To be completely honest, no, I wasn't. I wanted to be there, and we weren't.
Are you surprised that the two Iowa City schools ended up playing for the crown?
No, I was not surprised. They are both very good teams and have very good athletes.
You have committed to play softball at Indian Hills Community College. What did you like about the school?
One thing I loved about it was the facilities. Also, the coaches were very welcoming and family-oriented, which made me feel right at home. I had also decided early on that I wanted to stay closer to home to start my college experience.
What other schools did you consider?
Minnesota State, Bradley, DMACC and Simpson.
Did you get many looks for basketball?
A couple of smaller schools wanted me to play both sports, but I wanted to focus on softball.
Centennial has a new softball coach in Randy Schneider. Has it been a smooth transition thus far?
Yes. I haven't had a ton of contact with him, but I met with him during the basketball season and our offseason workouts have gotten off to a good start.
What are you planning to study in college?
I'm planning to study Early Elementary Education with an emphasis on Special Education.