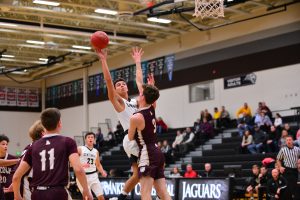 Last week, Ankeny Fanatic unveiled its all-CIML girls' basketball teams. Now, it's the boys' turn.
Once again, the goal was to select the top 10 players in the 18-team conference–five for the first team and five for the second. But it turned out to be an incredibly difficult task.
There is just so much talent this year in the CIML. Take a look at the players who didn't make the cut:
Blake Brinkmeyer of Valley, an Indiana State recruit who helped the Tigers to the Class 4A state tournament.
Waukee's Dylan Jones, a 6-foot-8 junior who is drawing Division I interest. He will also be playing at Wells Fargo Arena this week.
Zach Kluver of Ankeny Centennial and Ben Lyon of Ankeny. Both seniors had strong all-around seasons for their respective teams.
Indeed, it was almost impossible to limit the all-CIML teams to just 10 players. Therefore, we decided to expand the list to 12 players, naming a sixth man for each of the two teams.
Here, then, is the Ankeny Fanatic all-CIML selections:
1st team
Sam Ingoli, 6-5 senior guard, Dowling Catholic: The versatile wing could have played basketball in college, but he's also a standout wide receiver who elected to play football at Northern Iowa instead. He made the most of his final basketball season, leading the Maroons to a 17-6 record. Ingoli averaged 14.6 points and 6.2 rebounds per game while dishing out a team-high 101 assists.
Tyreke Locure, 6-0 junior guard, Des Moines North: One year after leading the Polar Bears to their first state tournament berth since 1991, Locure was even better as a junior, averaging 28.1 points and 5.7 rebounds while racking up 166 assists and 94 steals. He erupted for 56 points, including seven 3-point goals, in a win over St. Joseph (Mo.) Lafayette on Dec. 22. Ankeny Fanatic's CIML player of the year, Locure has blossomed into a Division I prospect.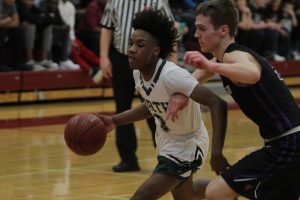 Hunter Strait, 6-1 senior guard, Ankeny Centennial: Strait averaged 16.2 points per game and made 40 3-pointers while leading the Jaguars to a 14-9 record. He had one of his best games in a 56-52 loss to rival Ankeny on Jan. 26, when he scored 32 points and sparked the Jaguars' rally from an early 21-point deficit. Strait has signed a letter of intent to play for Truman State, where he will be reunited with former teammate Connor Kasperbauer.
Devonte Thedford, 6-2 senior guard, Des Moines Hoover: Thedford averaged 15.4 points to lead Hoover's balanced attack, helping the Huskies to a 19-3 mark. He also grabbed 7.9 rebounds and played an instrumental role for one of the state's top defensive teams. The Huskies allowed just 42.9 points per game.
Trayvon Williams, 6-2 junior guard, Valley: Williams helped the Tigers rebound from a 6-7 start to win 10 consecutive games, capped off by an upset over Hoover in last Tuesday's substate final. He is averaging 10.1 points and shooting an impressive 58 percent from the field heading into the state tournament. Williams is also one of the state's top high jumpers.
Camden Vander Zwaag, 6-4 senior guard, Johnston (6th man): Vander Zwaag is averaging 14.7 points and 4.7 rebounds for the Dragons, who will meet CIML rival Waukee in the Class 4A quarterfinals on Tuesday. A strong defender, Vander Zwaag has committed to play for the Air Force Academy.
2nd team
Luke Appel, 6-7 senior forward, Marshalltown: Appel was a double-double machine for the Bobcats, averaging 22.0 points and 10.1 rebounds per game. He racked up 26 points and 13 boards in Marshalltown's win over Des Moines North to end the regular season, one of the biggest upsets of the year. He shot 59 percent from the field while leading the Bobcats to an 8-14 record, their best season since 2010-11.
Dillon Carlson, 6-3 junior guard, Ankeny: Carlson, the son of Ankeny coach Brandt Carlson, sat out several games at the beginning of the season, which may have contributed to the Hawks' 1-10 start. However, he played a key role in the team's turnaround, averaging 17.0 points and 4.3 rebounds as Ankeny won seven of its last 12 games to finish 8-15. Carlson shot 38.8 percent from behind the arc, including a game-winning 3-pointer to beat Des Moines Lincoln on Feb. 13.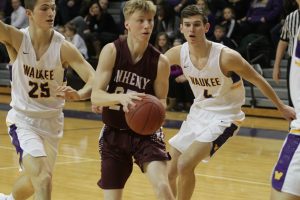 Malcolm Clayton, 5-11 senior guard, Fort Dodge: Clayton led the Dodgers to a 14-9 record for their second consecutive winning season. He averaged 17.7 points and 5.3 rebounds per game.
Boston Grimes, 6-0 senior guard, Johnston: Grimes exploded for 35 points in the substate final against Des Moines North, allowing the Dragons to win an overtime thriller. He is averaging 15.5 points and has made 51 3-pointers while shooting 49 percent from behind the arc. Grimes, who has dished out 104 assists, is the most improved player in the CIML, according to one opposing coach.
Nathan Johnson, 6-7 senior forward, Waukee: Johnson has helped the Warriors to a 19-4 record heading into the state tournament. He is averaging 12.2 points and 7.5 rebounds. While Johnson scores a lot of his points in the paint, he has also made 33 3-pointers.
Joe Evans, 6-3 senior forward, Ames (6th man): One opposing coach called the Iowa football recruit a monster. Evans averaged 18.2 points and 6.5 rebounds while leading the Little Cyclones to a 9-13 record. He shot only 64.9 percent from the free-throw line, but he made them when they counted the most–he twice hit some free throws in the final seconds to beat Ankeny.
Coaches' all-conference teams
The coaches in the CIML have also released their all-conference teams. Here are the Central Conference honorees:
1st team
Joe Evans, Ames
Japannah Kellogg, Ames
Nathan Johnson, Waukee
Dylan Jones, Waukee
Blake Brinkmeyer, Valley
Trayvon Williams, Valley
Hunter Strait, Centennial
2nd team
Nathan Nelson, Waukee
Noah Samples, Valley
Ben Lyon, Ankeny
Zach Kluver, Centennial
Willie Tunks, Southeast Polk
Jaxx Rittman, Waukee
Noah Hart, Waukee
Honorable mention
Valley: Michael Bryan, Carter Frey
Centennial: Jackson Brannan, Micah Johnson
Ames: Tyler Carney, Makai Muhammad
Ankeny: Jaxon Smith
Southeast Polk: Grant Arnold, Dom Caggiano