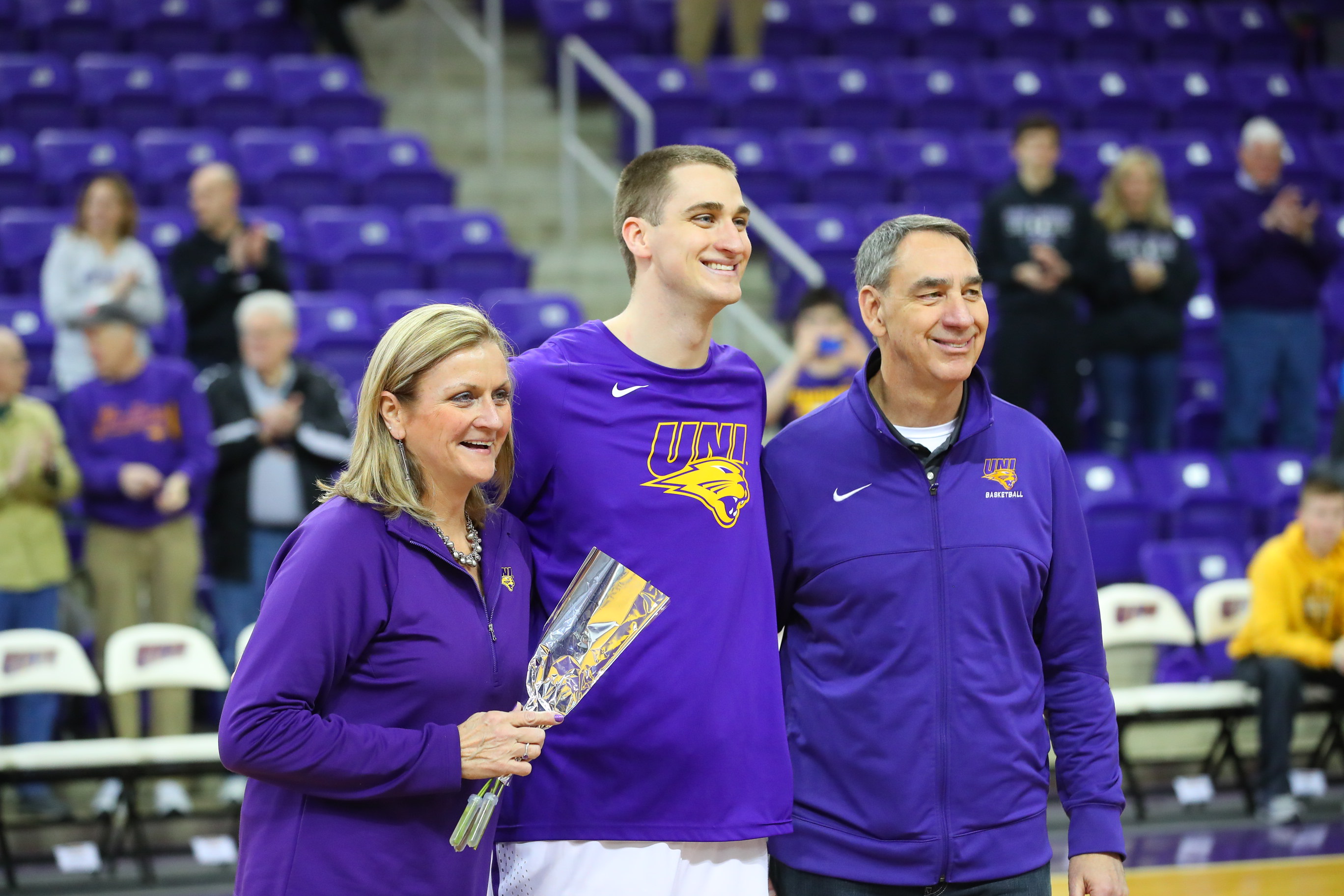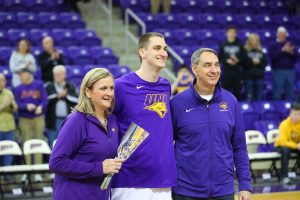 The season ended on Friday for former Ankeny star Ted Friedman and the Northern Iowa men's basketball team.
The Panthers lost to top-seeded Loyola of Chicago, 54-50, in the quarterfinals of the Missouri Valley Conference tournament at St. Louis. Friedman made 1-of-2 shots and scored two points in his final collegiate game.
UNI finished with a 16-16 record. Friedman, a 6-foot-9 center, scored a season-high seven points in the Panthers' 71-56 victory over Missouri State on Senior Day on Feb. 24.
Friedman agreed to answer some questions via email after returning home from St. Louis. Here is his Q & A with Ankeny Fanatic:
Well, Ted, your college career is officially over. Has it sunk in yet?
I would say for the most part it has. After the game was over I felt the sudden wave of it washing over me and realized that I had played in my final game and that hurt a little bit. Now that I am a couple days removed I still can get a sense of the fact that it is over and it sort of feels like any other year end at the moment. I have periods where I think about my preparation for the next game in terms of my diet, fitness and shooting, and it takes me awhile to realize that I don't have to worry about those items quite as much. I think it will truly hit me more in a month or so when the rest of the team starts up workouts again and then especially when the season starts next year. That is when it will truly hit me that it is over.
Does it seem like the five years went by really fast?
Yeah it does for sure. It feels like just the other day when I was graduating from Ankeny and coming in for my first workout that summer in 2013. Everyone always mentions how quickly it goes by, but you can never truly believe them until it happens to you. Although it was a fast five years, it was also a great five years. I have made so many lifelong memories and friends through the process that it was definitely worth it.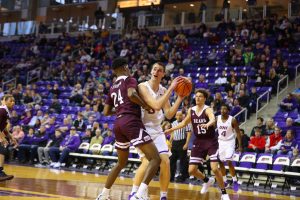 Can you describe what your emotions were like on Senior Day?
Senior Day was an incredible day for me. It was great to be honored in front of our amazing home crowd before the game alongside my parents and it was awesome having almost my entire family in attendance for it. I was ecstatic that coach Jacobson allowed me to start in my final home game, and it was very exciting and a surreal feeling to be able to have my name called in the starting lineup one more time. The game was one of the most fun games I have partaken in here at UNI and getting two dunks and a closing 3-pointer was the best way I could ask for it to go out. After the game, my feelings were all of joy and pride for the game and career I had and all the memories I made in the McLeod Center.
Your team was trying to win the MVC Tournament title for the third time in four years, but this time it would have required four wins in four days. Did you go to St. Louis with the mindset that you could win it again?
Yeah, we definitely had the mindset we were going to win. We had a bunch of guys who had been there before and played key minutes in those games. We knew what it was going to take in order to win, and we felt we had those ingredients to win it again this year. We had also been playing our best basketball of the year in the two or three weeks leading up to the tournament, so with those combined factors we felt we had a real shot at winning. I do not think playing four games had an impact on our confidence or our approach to the weekend.
You provided some valuable minutes during the first half of Friday's game against Loyola. Did you know coach Ben Jacobson was going to call upon you so early in the game?
I did not know he would call upon me. I knew it was a good possibility, and I was ready for when he did. I had been playing well the last few weeks leading up to the Loyola game, and I had been doing some good things in practice as well. The factor of us just playing a game the night before and Klint (Carlson) playing a lot of minutes in that game also gave me a chance of going in early since I had some new fresh legs to provide.
You've played against a lot of quality teams this season. How does Loyola, which has an RPI of 31, compare to some of your other opponents? Do you think the Ramblers would have deserved an at-large bid to the NCAA Tournament if they hadn't won the MVC tourney?
I think they definitely would have deserved an at-large bid. They were definitely one of the better teams we played this season. They play with a great pace and have a great offense that keeps you on your heels the whole game. Any of their guys can have a big night as well, which makes them even tougher to guard, and they do not make a ton of mistakes. Being able to be so solid is what makes them such a good team and the one similarity in all the good teams we played this year. None of them beat themselves, and they have guys that make plays. Loyola also lost only five games and beat Florida at Florida and some of their losses came when their best player was out. The Valley was also tough this year because there were no bad teams in the conference. All of those factors make it impossible to leave them out of the tourney.
Your team played extremely well during the non-conference season, but then struggled to an eighth-place finish in the conference. Do you think the strength of the Missouri Valley was underrated?
Yeah, I think the conference was definitely underrated this year. Even though Wichita State leaving made it so that one very good team was gone, there was not a single team in our conference this year that was bad. Each game we knew was going to be a showdown because you had to show up every single night. Otherwise, you were not going to win. I think a big factor as well was that everyone in the Valley scouts super well. Because of this, each team knows exactly what the other team is going to do. Only the most solid teams can pull out victories in those situations.
The UNI program obviously achieved a lot of success throughout your career. Is there one specific moment that really stands out in your mind?
For me, it is definitely the North Carolina game at home (during the 2015-16 season). Being in that environment on our home court was incredible. Having the crowd behind you cheering every basket and every defensive stop and then the storming of the court at the end of the (Panthers' 71-67 victory) is something I'll never forget. It was also my personal favorite game because it was the game that I got the most minutes (28) in throughout my career. Being able to provide one of my best games against the No. 1 team in the nation on our home floor was just incredible.
Do you have any regrets about your career, or are you pretty satisfied with what you were able to accomplish?
I would say that I am satisfied with my career. There are definitely things that I wish would have gone a little better for me such as getting a little more playing time and going to the (NCAA Tournament) one more year or going farther into the tournament. Although, I think I'm blessed in the sense that I've gotten to accomplish some things that most people and more specifically most basketball players can only ever dream of accomplishing and for that I am ever thankful. So even though there are things I wish I would have gotten to do a little more of, I do not have any regrets. I poured my heart out every single day giving the best that I could and through my successes and more importantly my failures I have learned so much that I can take with me into my next endeavor and have an even better experience.
I'm sure you've heard about some of the recent scandals to hit college basketball, including the allegation that Arizona coach Sean Miller was overheard on an FBI wiretap discussing a $100,000 payment to prized recruit Deandre Ayton. Do you think the time has come for the NCAA to allow players to be paid?
That is a very tough question to answer. In theory student-athletes should definitely get paid for their efforts. It is one of the most demanding and gruesome "jobs" that anyone could partake in. Student-athletes are also the ones in the spotlight allowing everyone else to make millions of dollars off of their blood, sweat and tears. However, once you get into the actual talk of money and how it would all play out, it gets quite difficult. Smaller schools would not have the money and resources to provide such services allowing bigger schools to have a huge advantage. There are also many other logistical factors that go along with paying student-athletes as well. So if the NCAA can find a good way to pay their student-athletes, I think their efforts should be rewarded.
What's next for you? Have you graduated yet?
I am planning on graduating in May with my majors in Economics, Finance and Psychology. After I graduate, I am hoping to be able to move back toward the Des Moines area and be closer to my family and I am hoping to find a job around there. It is difficult for me to speculate what kind of job I am looking for at the moment, but it is most likely something in the business world and hopefully somewhere where I can be a leader and use my teamwork and talents I have learned through basketball.