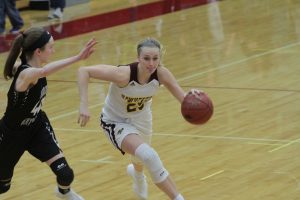 Ankeny's Sara McCullough and Ankeny Centennial's Chloe Olson have received all-state basketball honors from the Iowa Girls' Coaches Association.
McCullough, a junior forward, was named to the Class 5A second team. She averaged 16.2 points and 7.0 rebounds per game while leading the Hawkettes to an 11-12 record, their best season since the split into two high schools.
Olson, a senior forward, was selected to the Class 5A third team. She averaged 12.3 points and 8.4 rebounds for the Jaguars, who won the CIML Central Conference title and finished with a 19-4 mark.
McCullough, a Northern Iowa recruit, scored 20 or more points eight times. She had a career-high 27 points and 11 rebounds during a loss at Waukee on Jan. 5, one of her five double-doubles this season.
McCullough shot 48.6 percent from the field and 48.1 percent from 3-point range. She made 52-of-108 attempts from behind the arc.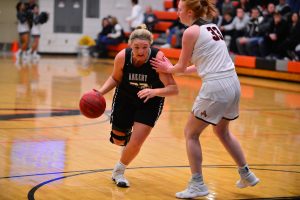 Olson was earlier named to the Class 5A second team by the Iowa Print Sports Writers Association. She had seven double-doubles this season, two of them during regional play after she was diagnosed with Influenza B.
Olson scored in double figures in nine of her last 10 games. She had a career-high 19 points and 13 rebounds in the Jaguars' victory over defending Class 5A state champion Valley on Jan. 19.
The Central Iowa Metropolitan League placed four players on the coaches' Class 5A first team. Dowling Catholic star Caitlin Clark was named to the team along with Zoe Young of Valley, Maya McDermott of Johnston and Shiloh McCool of Southeast Polk.
McCullough was joined on the second team by Anna Brown of Waukee, Shea Fuller of Valley and Grace Larkins of Southeast Polk. Olson was joined on the third team by Jennah Johnson of Johnston and DeeDee Pryor of Urbandale.
BJ Mayer of Iowa City West, who led the Women of Troy to the state championship, was named the Class 5A coach of the year.