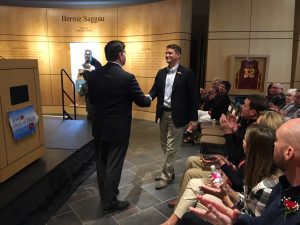 When Ryan Sears was promoted to the Ankeny boys' varsity basketball team as a freshman, his older brother Todd was the Hawks' star player.
"I still remember the one game where we combined for 45 points," said Ryan. "And I had two of them."
Ryan eventually joined his brother as an all-state player, helping Ankeny to three consecutive state tournament appearances. He was named to the all-tournament team after leading the Hawks to the Class 4A championship in 1995.
On Friday night, Sears returned to the state tournament at Wells Fargo Arena to be inducted into the Iowa Basketball Hall of Fame. He joins Todd, who was inducted in 2009, as the sixth set of brothers in the Hall of Fame.
"It's definitely an honor. I'm real excited about it," Sears said. "You look at the names in (the Hall of Fame), and there's obviously a lot of great players. It is an honor just to be mentioned with some of those guys."
Sears became the fourth Ankeny player to join the Hall of Fame. Ray Fontana and Jay Block were previously inducted along with Todd Sears.
Longtime Ankeny coach Larry Ireland, who has passed away, is also a member of the Hall of Fame. He coached Block as well as the Sears brothers.
"I learned a lot of great lessons from Larry, and I would have loved for him to be here (for the induction ceremony)," Sears said. "Toughness was a huge thing I learned from him. Working hard day in and day out. And then the culture and the tradition that he and (assistant) coach (Dave) Kissinger created there. I think we learned to win, and it was just an honor to be a part of that program."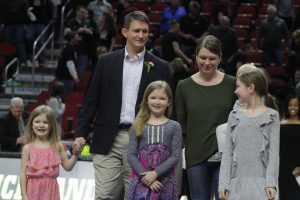 Sears, a point guard, joined Ankeny's varsity team in the 1993-94 season and helped the Hawks to a third-place finish in Class 4A. He came off the bench as a freshman, serving as the backup for guards Steve Olson and Jay Skelton.
"I didn't start, but I learned a lot from those guys and that great senior class," Sears said. "I was just fortunate to play with that group. We learned a lot about the winning culture at Ankeny and the rich tradition that the program has. It was a catalyst for us for the next season."
As a sophomore, Sears combined with fellow guard P.J. Dauterive to form one of the state's best backcourts. Ankeny went just 12-7 during the regular season, but then reeled off six consecutive postseason wins to capture the only state title in school history.
Sears averaged 19 points per game during the state tournament. He scored 24 points in a semifinal rout over Davenport North, which featured future NBA player Ricky Davis.
"We had a solid team, but nothing special," Sears said. "That's what made that season so rewarding. We just clicked at the right time, and we were playing together. It was a great journey. Being the underdog and not being expected to do that, that was a special season for sure."
Sears went on to become a two-time all-state player for the Hawks. He finished his career with 1,209 points.
"When I heard Ryan was going in (to the Hall of Fame), I was very excited for him," Todd said. "For the high school and college career that he had, he definitely deserves to be in. It's extra special that we are now in the Hall of Fame together."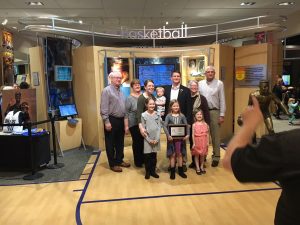 Ryan said it wasn't easy growing up in his brother's shadow. Todd grew into a 6-foot-7 forward and eventually embarked on a baseball career that led to a brief stint in the major leagues, while Ryan stopping growing once he reached the 6-foot mark.
"I think it was just tough because he would beat me in everything," Ryan said. "It was more frustrating than anything, but I think it made me better as well. I think in some ways him having success made me believe that I could do it, too. It was a privilege to play with him."
Ryan had to prove himself when he first became a member of the varsity squad. Then he had to do it all over again when he left Ankeny to play for Creighton.
Sears started every game in his four years for the Bluejays, playing in three NCAA tournaments and one NIT. He contributed to three Missouri Valley Conference titles and was named the Outstanding Player of the 2000 MVC Tournament.
Sears graduated holding the MVC and Creighton career records for steals and the school record for assists. He is a member of the Creighton Hall of Fame.
"The Ankeny coaches believed in me enough at a young age to throw me into the fire," said Sears, who now lives in Bellevue, Ne., with his family and is the Area Director for the Fellowship of Christian Athletes. "I probably had a lot to learn and a lot of growing to do, but I think those lessons prepared me well because it was kind of the same deal at Creighton. Going in there and not knowing if I could play at that level against the bigger, faster, stronger guys, but I had learned how to fight and compete and play hard and play smart. I think I had a good knowledge of the game and just how to play–it definitely served me well going into a program like that. Just being able to play the Ankeny way."