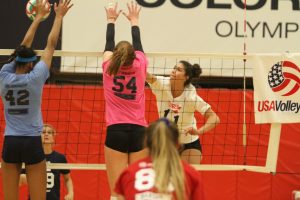 The game of volleyball has taken Kylee Macke and Jaali Winters all over the United States.
Earlier this month, the sport brought the former Ankeny Centennial teammates together at the U.S. Olympic Training Center in Colorado Springs, Colo. The duo was among more than 230 student-athletes from 90 colleges and universities who participated in the 2018 U.S. Women's National Team open tryouts on March 2-4.
"The only thing I knew was that there was going to be a lot of good girls there, and it would be a totally different type of volleyball than I had seen before," said Macke, who was one of three Drake players invited to participate in the event. "I really didn't know what to expect as far as the drills we were going to do."
Winters, a junior outside hitter at Creighton, attended the tryouts along with teammates Taryn Kloth and Brittany Witt. All three Bluejay standouts spent part of last season with Team USA's various collegiate programs.
Winters went to Croatia for two weeks last summer and helped her USA Volleyball team to the European Global Challenge title. In 2016, she was one of 36 players who trained and competed as part of the U.S. Collegiate National Team-Indianapolis program.
"The setup for the tryouts is the same every single year," Winters said. "So you know when you get there you're going to do a dynamic warmup, then you're going to go into a little bit of pepper, you're going to serve receive for a bit, and then you do some hitting lines and that's about it. Just knowing the setup helps you get prepared, and you know what to practice for in the weeks coming up before the tryouts."
Winters and Macke were competing for a spot on the U.S. Women's National Team and/or the U.S. Collegiate National Teams program. U.S. Women's National Team head coach Karch Kiraly and his staff directed the tryouts.
Selections for the U.S. Collegiate National Teams will be made by the end of March.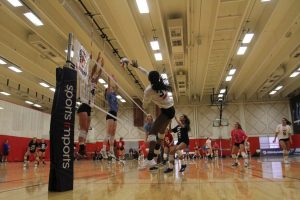 "I thought I did well compared to what I thought I was going to do," said Macke, a freshman libero. "I really went there with the mindset that I had nothing to lose, so I might as well just give it all I've got."
Winters was also happy with her performance, but she said that her opinion really doesn't matter.
"It's all in the hands of the coaches now. So hopefully they think I performed well," she said. "But at this point, you just wait it out and see how it goes. I know that I gave it my all, and hopefully the coaches see that."
Winters and Macke played together on Centennial's state championship team in 2014, helping the Jaguars to a 44-3 record. They enjoyed the opportunity to reunite in Colorado.
"I saw Jaali, we took a picture, and we talked," Macke said. "She was in my session on (the last day). I didn't play with her, but I saw her and we talked. It was good catching up."
Winters also enjoyed the reunion.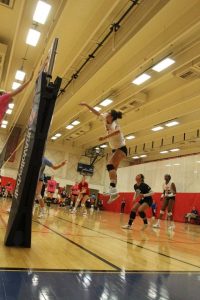 "It was just a lot of fun," she said. "For me, the most exciting part about the tryouts was just seeing all the girls I've played with over the past couple of years. There was a ton of girls from Iowa that I got to see, and it's always fun to catch up with people."
Former Iowa prep stars Hayley Dotseth, Hannah Lockin and Jess Schaben were among the other players at the tryouts.
"We do have an incredible environment for volleyball in Iowa," Winters said. "It's gotten so competitive over the years, and it's amazing how many Iowa girls are doing so well at the Division I level."
Winters has enjoyed a remarkable career at Creighton, where she twice has earned all-American honors while playing in three NCAA tournaments. She led the Bluejays to the Elite Eight in 2016.
"She's an outstanding player and person. I'm not surprised by anything that she's accomplished," Macke said of Winters. "Just from playing with her in high school, we all knew she'd go super far in her career.
"She's such a strong player, and she's gotten so much better. I've watched a few of her games on TV, and she's so consistent and she's just great," Macke added.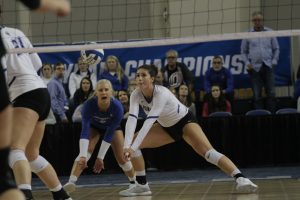 Winters' ultimate goal is to earn a spot on the U.S. Olympic team. After playing her final year at Creighton, she plans to enhance her resume by playing two seasons of beach volleyball.
Winters has taken visits to Arizona State, Hawaii and Grand Canyon University.
"I really haven't played a lot of beach volleyball," Winters said. "My experience is pretty limited, but it's amazing how many coaches have shown an interest in me, which really surprised me.
"Right now my plan is to finish out my time at Creighton, and I'll graduate this December. Then I want to play beach volleyball and get my Master's degree, and then I'll get back into the indoor game and play overseas hopefully. You just hope that at some point when you're playing overseas that you get a call from the National Team and they want you to come train with them. So hopefully that's what happens," she added.
Macke, meanwhile, is coming off an outstanding debut season at Drake. She racked up a team-high 486 digs, the ninth most in a season in program history, while helping the Bulldogs to a 23-10 record last fall.
"It was definitely one of the best seasons the program has had in a long time," Macke said.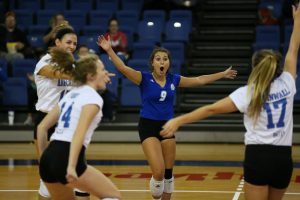 Macke played on three consecutive state championship teams at Centennial before moving on to Drake. She said it wasn't an easy transition at first.
"At the very beginning during preseason, we went and scrimmaged Iowa State and I was kind of like, 'Whoa!' It was a wake-up call," Macke said. "It was so much faster than anything I was ever used to. I struggled with it for awhile, but I finally got the hang of it. I just had to work on the little things that would help improve my skills."
Macke attributed much of her success to her former teammates and coaches at Centennial. She only played one season of club volleyball, which limited her exposure on the national level.
"I didn't really have a lot of club experience, so to go from high school to here, I am surprised a little bit," Macke said. "But I have had great coaches and great teammates that have pushed me along the way. That's definitely been a huge factor."
Winters said she wasn't surprised to find out that Macke would be participating in the National Team tryouts.
"Kylee was so amazing in high school," she said. "The success she's had so far at Drake is amazing, and I know she's going to continue to get better as she gets older. She's developing so much as a player. It was great to see her and see how much she's improved over the last couple of years."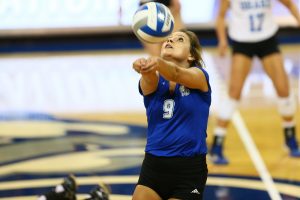 Selected athletes for the U.S. Women's National Team may begin their training in Anaheim, Calif., as early as the spring of 2018, or when an athlete's scholastic or professional club season has concluded.
The U.S. Collegiate National Team program has three competition options. The first team will head to Asia on May 20-31, the second team will go to Europe on July 4-15, and the third team will play in Detroit on June 22-July 1.
Winters said any of those opportunities would be beneficial for both her and Macke.
"You grow so much as a player just by playing with so many amazing people and athletes," Winters said. "You're seeing different cultures and being coached differently, which is really cool as an athlete to see different coaches' perspectives. And more than that, getting that overseas experience shows you what it's like to play against other players from around the world."