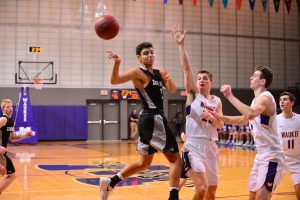 If the Ankeny Centennial boys' basketball team needed a basket, coach Bob Fontana usually put the ball in Hunter Strait's hands.
If Fontana wanted to get one of the other Jaguars going offensively, he would rely on his senior point guard to deliver an assist.
Strait's ability to score and to distribute the ball has been recognized by the Iowa Print Sports Writers Association, which named him to the Class 4A all-state third team.
Strait led Centennial to a 14-9 record this season. He averaged a team-high 16.2 points per game and also had 38 assists.
Strait led the Jaguars with 40 3-point goals, shooting 34.8 percent from behind the arc. He had five 3-pointers and scored a career-high 32 points in a 56-52 loss to crosstown rival Ankeny on Jan. 26.
One week later, Strait had 22 points to lead Centennial to a 59-51 victory at Ames. He surpassed the 1,000-point career mark during that game.
The Iowa Print Sports Writers Association selected Joe Weiskamp of Muscatine as Iowa's Mr. Basketball. The Iowa recruit led his team to the state tournament and finished his career as Class 4A's all-time leading scorer.
Here are the IPSWA Class 4A all-state selections:
First Team
Joe Wieskamp (Muscatine), senior
A.J. Green (Cedar Falls), senior
Patrick McCaffery (Iowa City West), junior
Tyreke Locure (Des Moines North), junior
D.J. Carton (Bettendorf), junior
Garrett Sturtz (Newton), senior
Corvon Seales (North Scott), senior
Devonte Thedford (Des Moines Hoover), senior
Second Team
Nathan Johnson (Waukee), senior
CaRondis Harris-Anderson (Waterloo West), senior
Carter Stevens (Dubuque Senior), senior
Lucas Duax (Dubuque Hempstead), senior
Luke Appel (Marshalltown), senior
Trey Hutcheson (Linn-Mar), junior
Sam Ingoli (Dowling Catholic), senior
Boston Grimes (Johnston), senior
Third Team
Aidan Vanderloo (Sioux City East), junior
Seybian Sims (Iowa City West), senior
Malcolm Clayton (Fort Dodge), senior
Dylan Jones (Waukee), junior
Hunter Strait (Ankeny Centennial), senior
Troy Houghton (Council Bluffs Lincoln), senior
Van Rees (Sioux City East), senior
Brian Dayman (Pleasant Valley), senior