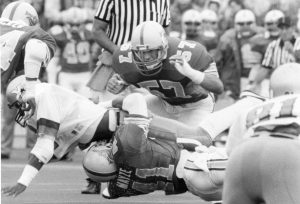 As a redshirt freshman on the Iowa State football team in the 1980s, Dennis Gibson once walked away from the practice field, determined to never play the sport again.
The former Ankeny standout was a 6-foot-2, 195-pound linebacker on the Cyclones' scout team. One day, he was moved to nose guard, where he would have to battle in the trenches against Iowa State's experienced starting offensive linemen.
"Everybody on the line was over 300 pounds, so I took a beatdown daily at practice," Gibson recalled. "We had very physical practices, and one day I just got beat up so bad that I was like, 'That's it. I'm done. I'm walking away. This isn't fun anymore.'"
Gibson said he decided to quit after suffering a concussion. He got double-teamed on one play and took a hard blow to the head.
"I walked off the field and basically thought I was going to throw up," he said. "I couldn't take it anymore. In those days, they took you into the locker room and put a bag of ice on your head, and I remember (Iowa State head coach) Donnie Duncan coming in after practice. He put his hand on my shoulder and said in his Southern accent, 'Don't worry, Gibby, it'll get better.'
"And I thought, 'Hell yeah, it's going to get better. I'm going to be gone and won't have to deal with this anymore.'"
When Gibson didn't show up for practice the next day, the Iowa State coaches searched all over Ames to find him. When they finally tracked him down, they convinced Gibson to return to the team.
"But I told them I was only going to play if I didn't have to play (nose guard) during scout team," Gibson said. "I said, 'I'm Ok playing on the edge if you want me at defensive end, but I'm not playing in the interior.' So things got better and better after that."
They certainly did.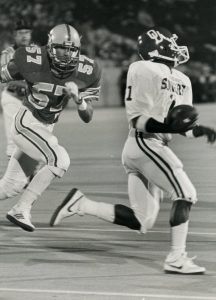 Gibson went on to become a three-year starter for the Cyclones, racking up 304 career tackles. He was a two-time all-Big Eight selection and Iowa State's Defensive MVP in 1985-86.
After being selected in the eighth round of the 1987 NFL Draft, Gibson played seven seasons for the Detroit Lions and two more for the San Diego Chargers. The most memorable moment of his NFL career came in the 1994 AFC Championship Game, when he batted down a fourth-down pass from Pittsburgh quarterback Neil O'Donnell in the end zone to send the Chargers to the Super Bowl for the first time in franchise history.
Gibson recently learned that he was being inducted into Iowa State's Athletics Hall of Fame. The inductees are chosen by an 18-person selection committee, and is considered the highest honor bestowed by the ISU athletics department.
An induction ceremony will be held on Sept. 14 in the Sukup End Zone Club at Jack Trice Stadium. The seven new inductees will also be honored at halftime of the Iowa State vs. Oklahoma football game the following day.
"I was kind of surprised when (Iowa State athletic director Jamie Pollard) called me," Gibson said. "I guess it's a long time coming because it's been so long since I played there and you kind of forget about those things, but I was really excited to hear that and I shared the news with some of my good buddies that I played with shortly thereafter."
Gibson was previously inducted into the Iowa High School Football Hall of Fame in 2010. Despite his honors, he said he never played the game for personal glory.
"I was never all-anything," he said. "I was just one of those guys who went out and played as hard as he could and had a good time doing it. I was never playing for the individual accolades. There's nothing more important in football than your teammates. The only reason you have the ability to do what you do is because of the other 10 guys out on the field with you at the same time. There is no sport that is more team-oriented than football."
Gibson was not a five-star recruit coming out of Ankeny High School. He missed most of his junior season due to a broken collarbone, then made 108 tackles as a senior to earn second-team all-state honors.
Iowa State was the only Division I school to offer Gibson a scholarship.
"It just seemed like a natural progression," Gibson said of playing for the Cyclones. "I'd never really considered playing football in college up until my senior year, then some teams started talking to me. And then I thought, 'Hey, you might get a chance to do this.' There were some smaller schools that were interested, but Iowa State just seemed like the right fit for me. It was a chance to go play in a big-time league."
However, Gibson's collegiate career almost ended before it even began. Although he was firmly committed to the Cyclones, the Iowa State coaches did not appear to be as firmly committed to him.
"I think I was basically one of the last guys to get into the class, and then right before signing day (the coaches) started backpedaling and weren't really sure if they were going to offer me a scholarship, blah blah blah," Gibson said. "It got a little touchy at the end, but it ended up happening and they came through. I don't know if they offered too many (scholarships) and were worried or what, but I kind of felt like I was the last guy to get into the class. It's funny how it ends up working out."
Gibson ended up playing his entire Iowa State career for Jim Criner, who replaced Duncan after the 1982 season. Gibson refers to Criner's unsuccessful coaching tenure as "The Dark Ages in Ames", but he nevertheless enjoyed a number of personal highlights.
In 1984, the Cyclones hosted the first night game at Jack Trice Stadium. They battled second-ranked Oklahoma to the wire before the Sooners escaped with a 12-10 victory.
"Musco brought up the temporary lights, and we almost beat them," Gibson said. "We were one play away from beating what was basically a national championship team."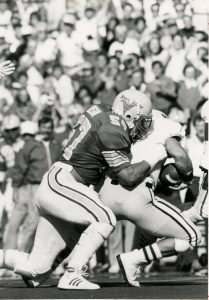 One year later, the Cyclones ended the 1985 season with a 15-10 victory over No. 7 Oklahoma State.
"It was a cold, blustery day in Ames, and we pulled off the win," Gibson said.
More than anything, Gibson said he remembers the teammates who played alongside him. He remains friends with many of them more than three decades later.
"I'm still in contact with some of them on a weekly or every other week basis now," Gibson said. "We'll try to get together for a game in Ames every year."
After retiring from the NFL, Gibson became an entrepreneur. He owned Encore Pizza in Johnston for many years before opening Uptown Food and Beverage in Ankeny.
Patrons of his restaurant would never know that Gibson is a former football star.
"I get a lot of people who ask me, 'Where are the pictures of yourself? You need to use that in your marketing,'" Gibson said. "But you know, this is my team now–the people that I work with here. We all have to work together to get it done. It doesn't matter if it's the dishwasher or the bartender or this guy over here, they've got to perform to get the best results we're looking for. I don't run away from (my football) past, but I think the people who hold onto it for too long are the ones who have problems coping with the real world once you walk away from the game."