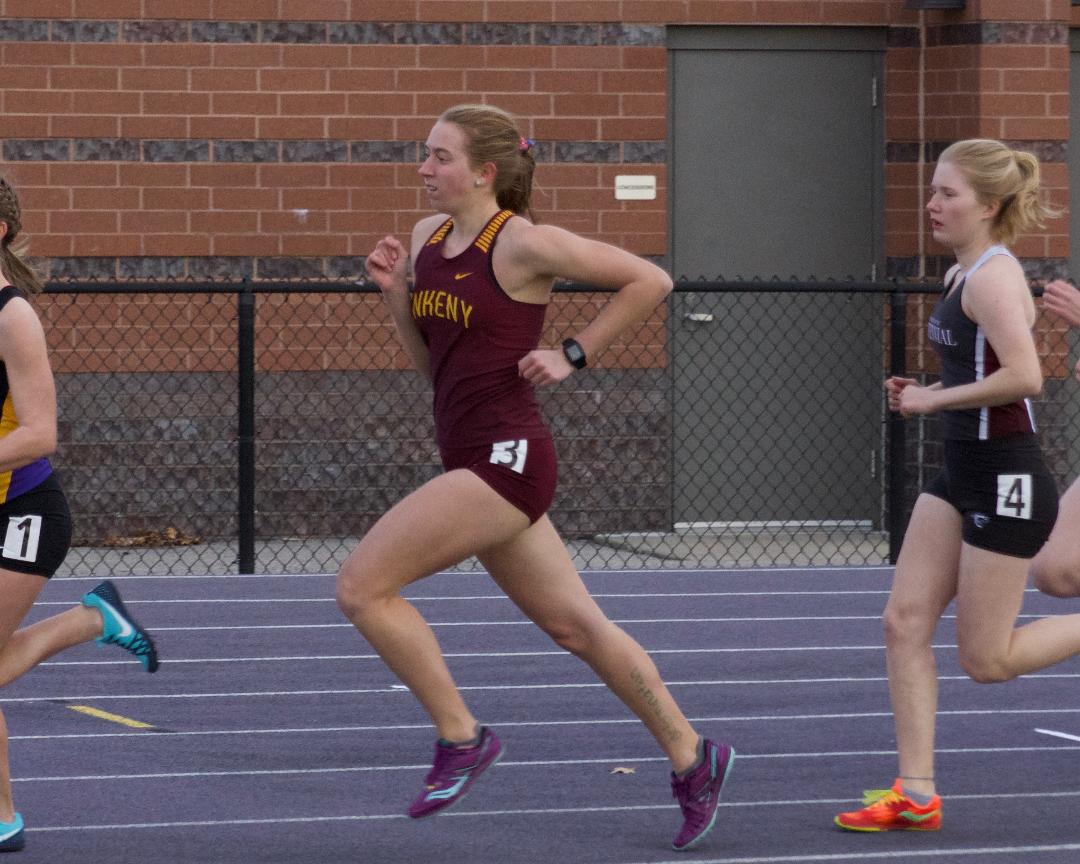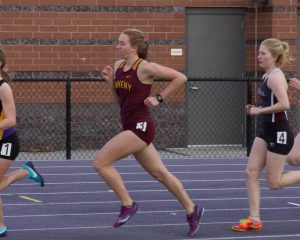 When the Johnston Invitational girls' track meet was cancelled on Tuesday, Ankeny Centennial coach Andrew Kruzich went looking for another meet that had room for the Jaguars.
Fortunately for Kruzich, the Waukee Early Bird Invitational came through with an open spot. That allowed the Jaguars and crosstown rival Ankeny to begin the outdoor season at the same meet.
"It was pretty hectic having Johnston cancelled and then calling Waukee last minute, but they allowed us in for what ended up being a pretty nice night to run," Kruzich said.
Both Ankeny teams turned in some strong performances, despite not winning any events. The Hawkettes got a runner-up finish in the shot put from Sydney Flatness, who posted a throw of 36 feet 5.5 inches, while teammate Alex Robran took second in the 3,000 in 11:04.14.
"On a night that earlier in the week looked like it was going to be a poor night for our first outdoor meet, it turned out to be a nice but cool night and the team had some hot performances," said Ankeny coach Dennis Adamson. "Sydney keeps inching the shot put farther each meet, and Alex continues to be a steady performer, consistently running the 3,000 in some of the best times of her career. She came out strong and held her own in a very competitive field."
Centennial's Katie Saddoris placed third in the 200 in 27.03. Teammate Karri Pippett was third in the 400 hurdles with a time of 1:12.54.
"The weather and our lack of indoor facilities has put us behind the eight ball on technical work this year," Kruzich said. "We just haven't been able to do a lot of technical jumping, hurdling, block work or handoffs, so we were a little rough around the edges (at Waukee). But our girls put together really nice efforts, and we had a lot of pleasant surprises. The good news is that our overall fitness is good."
The Hawkettes and Jaguars combined to place four runners among the top six finishers in the 100. Ankeny's Jasmine Rumley took third in 12.83, edging Saddoris by one-hundredth of a second. Eva van de Mortel (12.95) and Mytika Mayberry (13.09) placed fifth and sixth, respectively, for the Hawkettes.
"We had two girls under 13 seconds in their first 100 meter dash of the season," Adamson said.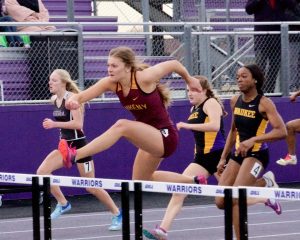 Centennial also placed second in three of the seven relays.
"I think we're on track to be a pretty good squad, and I think we'll make some big improvements over the next few weeks as the weather and our ability to practice improve," Kruzich said. "The girls had a lot of fun at this meet, and there were a lot of performances to celebrate."
Here are the rest of Ankeny and Centennial's top-six finishes:
100 hurdles–Malea Daugherty (A), 15.91 (6th).
3,000–Jeanne Peters (AC), 11:15.61 (4th).
High jump–Sophie Lampe (AC) and Hannah Loftus (A), 4-6 (tied for 6th).
Long jump–Betsy Ridout (AC), 16-0.5 (4th); Rumley (A), 15-8.5 (5th); Sydni Wendling (A), 15-3.5 (6th).
Shot put–Maxine Schulz (AC), 34-0.25 (tied for 4th).
4×100–Centennial (Hannah Wilson, Katie Petersen, Ridout, Saddoris), 51.57 (2nd); Ankeny (van de Mortel, Mayberry, Peyton Daugherty, Rumley), 53.09 (4th).
4×200–Centennial (Wilson, Lampe, Haile Northway, Jenny Hagg), 1:56.36 (5th).
4×400–Centennial (Claire Wubben, Kathryn Vortherms, Megan Gray, Pippett), 4:21.60 (2nd); Ankeny (Scout Bergwall, Holly Trimble, Sarah Bosch, Wendling), 4:22.66 (4th).
4×800–Centennial (Vortherms, Gray, Jesslyn Gaumer, Emma Gordon), 10:03.36 (3rd); Ankeny (Meghan Trimble, Bosch, Bergwall, MaKenna Drea), 10:13.39 (4th).
Shuttle hurdle relay–Centennial (Pippett, Petersen, Ridout, Kayla Eilander), 1:11.49 (4th).
Sprint medley relay–Ankeny (van de Mortel, P. Daugherty, M. Daugherty, Wendling), 1:56.18 (5th).
Distance medley relay–Centennial (Ridout, Alyssa York, Allie Robinson, Peters), 4:44.38 (2nd); Ankeny (Carly Baker, Morgan Becker, H. Trimble, Lydia Hill), 4:46.59 (3rd).