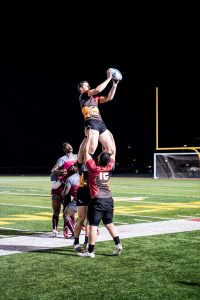 The Ankeny High School Rugby Club kicked off the opening night for boys' rugby across the state last weekend. Teams attending the tournament included Ankeny, Ballard, Centennial, Denver, Hoover, Lincoln, Madison County, Van Meter and Waverly-Shell Rock.
Centennial, led by captains Spencer Hilbert and Lane Pruisner, opened the night against non-conference opponent Van Meter. The Jags opened up the scoring with Lane Pruisner weaving his way through the defense with 6 minutes left in the first half. Van Meter quickly intercepted a pass to score their first try of the night and tie the match up.
However, the next scores belonged to senior Max Dahm. Defensive pressure allowed Ben Wong to intercept a pass and spin it out to Dahm to bring the score to 12-7. Pruisner would score again to secure a 19–7 win to start the season.
"We returned a lot of our starters from last year, but we gained a lot of young and talented players too," said Coach Connor Devin.
Ankeny, led by captains Hunter Staab and Colby Baugher, was paired against non-conference opponent Lincoln for its first match of the night. For the first few minutes it was a battle of the defenses; however, Staab then found an opening off of the ruck to score for the Hawks about 3 minutes in.
Ankeny didn't look back as it went on to shut out Lincoln, 38-0. Staab scored two more times for a hat trick, while Baugher, Mason Thomas and Michael Karns were other try scorers.
Ankeny and Centennial faced each other for their second match of the night. Dahm scored first to put the Jaguars ahead, but Staab answered for the Hawks to tie the match at 5-5.
The second half was a story of defense as each side only allowed one score which saw the match tied up 12-12 with no time left. Centennial then drew a penalty deep in Ankeny territory. With a quick tap, the Jags found Dahm at full pace to score the try. The conversion kick was good and Centennial won the match, 19-12.
The Jaguars finished the night 2-0, while Ankeny went 1-1.
"It's always a match of mixed emotions for our coaching staff, but overall as a club both teams played excellent rugby. It came down to a matter of capitalizing on mistakes. Centennial capitalized on one more than Ankeny did," Ankeny coach Dennis Oliver said. "We still have a lot of fitness to work on for the guys, and (not) making mental mistakes under fatigue. Overall, I'm very proud of the guys."
Ankeny and Centennial will host their second home tournament, and Senior Night, at Ankeny High School on April 6.