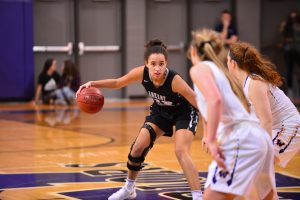 Keanna Williams wants to get out of her comfort zone.
That's one of the reasons the Ankeny Centennial point guard has verbally committed to play basketball for Mineral Area College in Park Hills, Mo. She picked the Cardinals over nearby Kirkwood Community College in Cedar Rapids.
"I have always been around my mom and dad and have never ventured off," Williams said. "I love having my family come to all my games and support me, but my goals have always been to travel and get out of Iowa. So I take this decision as being one step closer to doing what I want to do and while playing a game I love. Also, my family can watch online, drive seven hours or fly out to watch me play."
Williams also received offers from UMass Lowell and Jefferson College before making her decision. She heavily considered Kirkwood, but in the end she wanted to carve out a new path.
"Kirkwood is closer to home, and it's a good basketball program," Williams said. "But it's also nothing new, being only two hours away. I want to get out and meet more people and experience a different atmosphere.
"They were all great schools, but I thought Mineral was the best fit for me," she added.
Williams helped Centennial to a 76-19 record over the last four seasons. She played a key role on the Jaguars' state championship team in 2016, scoring 13 points in the Class 5A title game against Johnston.
After averaging 7.0 points per game as a sophomore and 6.4 points as a junior, Williams suffered a torn ACL in her right knee during an AAU tournament in Minneapolis last summer. She underwent surgery and then missed the first half of her senior season.
When Williams returned to action in January, she averaged 3.8 points and 2.8 rebounds over the final 10 games.
"I work out at Kingdom Hoops with Curtis Stinson for three days right now and work up to five days a week as school is coming to an end," Williams said. "I also lift with Engineered Per4mance about four times a week. So I would say my knee is getting stronger every day. I'm surrounded by such positive people that I don't think about my knee anymore. It's really been a true blessing to have the people that have helped me get to where I am today."
Now, Williams is looking forward to a bright future at Mineral, which is located in the Ozark Mountains of eastern Missouri, about 40 miles south of St. Louis.
"What I liked about MAC is how they welcomed my family and me," Williams said. "They explained everything to me and made me feel comfortable being there. I could picture myself playing there. It's away from home, but not too far. No one I know goes there so I will be trying something new. They also take academics very seriously, which will help me when I go to a four-year college."