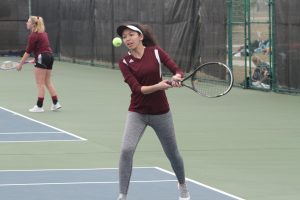 A cold wind has blown throughout much of the state this week.
The Ankeny girls' tennis team felt a different kind of breeze on Thursday.
The Hawkettes opened their season with a CIML Central Conference dual meet against visiting Ames, one of the state's top teams. The Little Cyclones blasted winners all over the court en route to an 11-0 victory.
"We played a very strong Ames team," said Ankeny coach Katie Owens. "Our No. 4 and 5 doubles teams battled them to three sets in their first varsity matches. I'm excited to continue to see growth with every match."
Here are the match-by-match results:
Ames 11, Ankeny 0
Singles–Fernando beat Beecham, 6-0, 6-0; Hanulikova beat Legg, 6-0, 6-1; Couves beat Weber, 6-0, 6-0; Chug beat North, 6-0, 6-1; Zheng beat Jacobson, 6-1, 6-0; Cai beat A. Johnson, 6-1, 6-0.
Doubles–Fernando/Couves beat Beecham/Weber, 6-0, 6-1; Hanulikova/Chug beat North/Jacobson, 6-2, 6-0; Zheng/Cai beat A. Johnson/Somerfeld, 6-1, 6-1; Liu/Forney beat Penningroth/Luther, 6-3, 4-6, 1-0 (12); Huang/Yin beat R. Johnson/Blatt, 6-1, 3-6, 1-0 (7).