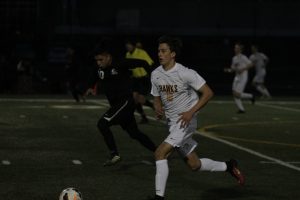 The Ankeny boys' soccer team is on a roll.
The Hawks posted a 4-0 victory over visiting Des Moines Hoover on Thursday for their fourth consecutive shutout. They are now 4-1 on the season, while the Huskies dropped to 1-1.
"Overall, I'd say it was a very mature performance from our team," said Ankeny coach Jordan Burns. "We were disciplined tactically and created a lot of goal-scoring opportunities. Most importantly, we kept another clean sheet."
Ankeny took a 1-0 lead early in the first half on a penalty kick by Peter Gaspari. Prior to the goal, the Hawks had gotten off to a slow start.
"Our execution and decision making was poor," Burns said. "However, once again we reacted in a positive way. Against the run of play, my boys were able to find the opening goal from the penalty spot.
"After we got our goal, the lads settled into the game more. We started to find our rhythm and began to make smarter choices," he added.
Kolby Raineri later scored another goal with about 10 minutes left in the first half. He was assisted by Gaspari.
Dayne Kajewski added the final two goals for the Hawks. Raineri and Charlie Pritchard each earned an assist.
"It's another win and another step in the right direction for us," Burns said. "As I say to the boys every day, 'We go again,' and that's exactly what we will do. Next stop…Dowling (on Tuesday)!"