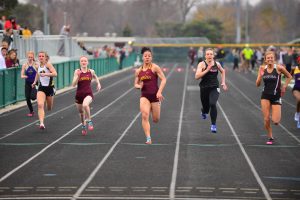 A year ago, the Ankeny girls' track team celebrated its Senior Night by winning the Hawkette Invitational.
On Thursday, Ankeny Centennial was hoping to accomplish the same feat, but Southeast Polk had other ideas. The Rams won six events, including four relays, to capture the Hawkette Invitational title with 125 points.
Valley was second in the eight-team field with 94 points. Centennial finished third with 93.
"We really wanted to go out there and win it for our seniors on their Senior Night, but we fell a little short," said Centennial coach Andrew Kruzich. "Our No. 1 high jumper was injured, we were missing our best thrower, and we DQ'd the shuttle hurdle and distance medleys because of simple mistakes. We left some points on the table in several events, and you just can't do that and win meets around here."
Ankeny, meanwhile, finished in a tie for fourth place with Carlisle. Both teams had 68 points.
"It was nice to have good weather for our home meet even though it got brisk by the end of the meet," said Ankeny coach Dennis Adamson. "You always want to do well on Senior Night on your home track. We had some very good performances that we can build on throughout the rest of the season; however, there were some disappointments and disappointment in our team finish."
Ankeny was led by sophomore Jasmine Rumley, who won the 100 in 12.93 seconds. Centennial's Katie Saddoris (12.95) and Betsy Ridout (13.00) placed second and third.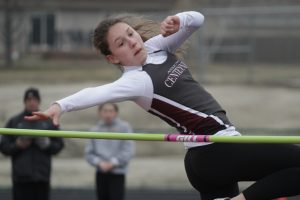 Rumley also anchored the Hawkettes to a victory in the 4×100 relay. She teamed up with Eva van de Mortel, Peyton Daugherty and Mytika Mayberry to post a time of 50.99.
Centennial took second in 51.12. That team consisted of Meg Ridout, Calea Jones, Betsy Ridout and Saddoris.
"I am very happy with where I am right now and how the season is going so far," Rumley said. "I am very proud of my 4×100 team. I am very excited to see where we are come the end of the season."
Saddoris later won the 200 for the Jaguars in 27.02. Betsy Ridout was the runner-up in 27.14.
Ridout also placed second in the long jump with a leap of 16 feet 1.25 inches. Cassie Yardley of Valley jumped 16-2 to win the event.
"We competed extremely well in a lot of events," Kruzich said. "Betsy and Katie were brilliant–four events each, and going 2-3 in the 100 and 1-2 in the 200, followed by handing off to each other in the 4×100 that almost won. They had a Senior Night to remember."
Two other seniors, Karri Pippett and Emma Gordon, also had productive meets. Pippett took second in the 400 hurdles in 1:10.39 and was third in the 400 in 1:04.30.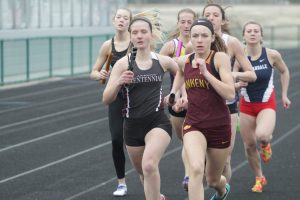 Gordon was the runner-up in the 1,500 in 5:05.20. She also teamed up with Megan Gray, Jesslyn Gaumer and Kathryn Vortherms for a second-place finish in the 4×800 relay in 9:55.09.
Ankeny got a second-place finish from Malea Daugherty in the 100 hurdles. She was clocked in 16.21 seconds.
"Her hard work in the offseason has made her stronger and faster as well as improved her technique," Adamson said. "Malea is 'all in' for an improved season."
The Hawkettes also took second in the distance medley. The foursome of Naomi Casady, Megan Utterback, Holly Trimble and MaKenna Drea posted a time of 4:36.78.
Ankeny competed without sprinter Mikala Sidney, who is out for the season with an ACL tear. She ran on the runner-up 4×100 relay at last year's state meet.
"That's a big blow," Adamson said. "We were also without Olivia Sharar, our high jumper and 400 runner. She is out for a couple of meets with a sore back."
Here are the rest of Ankeny and Centennial's top finishes:
100–van de Mortel (A), 13.22 (5th).
200–M. Daugherty (A), 28.44 (6th).
800–Meghan Trimble (A), 2:28.93 (5th).
100 hurdles–Katie Petersen (AC), 16.53 (5th).
1,500–M. Trimble (A), 5:10.52 (5th).
3,000–Alex Robran (A), 10:44.02 (4th); Savana Alt (AC), 11:08.30 (6th).
400 hurdles–Ellie Wilson (AC), 1:14.42 (5th).
High jump–Hannah Loftus (A), 4-10 (6th).
Long jump–Sydni Wendling (A), 14-9 (5th).
Shot put–Sydney Flatness (A), 33-7.75 (4th).
4×400–Centennial (Claire Wubben, Vortherms, Gray, Taylor Runchey), 4:19.28 (3rd).
Sprint medley–Ankeny (van de Mortel, P. Daugherty, Rumley, Wendling), 1:55.44 (3rd).