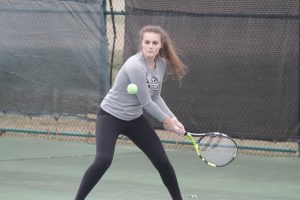 For the second year in a row, the Ankeny Centennial girls' tennis team opened its season with a 10-1 victory over Southeast Polk.
The Jaguars dominated Thursday's CIML Central Conference dual meet at the Prairie Ridge courts, losing only the No. 1 singles match.
"Overall, it was a great first time out for both the varsity and the JV," said Centennial coach Emily Phommachack. "I was very impressed with how they all played."
After taking a 5-1 lead during singles play, Centennial swept all five of the doubles matches in straight sets. The No. 1 doubles team of Alyssa Lewton and Alli Gustafson rallied from a 5-2 deficit in the first set to post a 7-6, 6-0 triumph.
"All of the doubles teams had great communication," Phommachack said.
Freshman Jordyn Gustafson and junior Tayler Bloom made their varsity debuts for the Jaguars. They both easily won their singles matches, then teamed up for another win at No. 3 doubles.
Here are the match-by-match results:
Centennial 10, S.E. Polk 1
Singles–Stutzman (SP) beat Lewton, 6-4, 6-0; A. Gustafson beat Harvey, 6-1, 6-2; Miller beat Maher, 6-2, 6-3; Nisius beat Bracewell, 6-0, 6-0; J. Gustafson beat Shepherd, 6-1, 6-1; Bloom beat Northway, 6-0, 6-4.
Doubles–Lewton/A. Gustafson beat Stutzman/Harvey, 7-6, 6-0; Miller/Nisius beat Maher/Bracewell, 6-1, 6-4; J. Gustafson/Bloom beat Shepherd/Northway, 6-1, 6-0; Nemmers/Watson beat Jorgenson/Carley, 6-0, 6-4; Vandeloo/Bryan beat Springer/Vannoy, 6-0, 6-0.