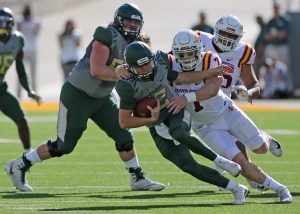 ​The Ankeny Booster Club will present its All Star Award to Joel Lanning at its annual Booster Bash on April 28. Lanning was the quarterback on Ankeny High School's last state championship team and just completed an outstanding football career at Iowa State.
The Booster Bash is the Booster Club's largest fundraising event and helps to support the activities departments at both Ankeny and Centennial high schools. During the club's fiscal year ending in 2017, a total of $95,000 was given to each high school from the Booster Club.
According to Brent Buttjer, Ankeny High School Activities Director, "school district budgets cover costs related to coaches' salaries, facilities, and transportation, so remaining costs are covered by tickets sales and other funds raised by the Booster Club. Everything from uniforms and equipment to renting facilities like golf courses and bowling alleys for practice and competition need to be funded."
Booster Club President Brian Mulcahy is looking forward to another successful event.
"The Booster Bash has turned into a great event," he said. "We encourage parents of the younger student-athletes to get involved and support the event so that we can maintain the high level of opportunities that exist in Ankeny schools."
Information about the event and tickets are on sale now at www.ankenyboosters.com. Individual tickets can be purchased for $45 each, or a table of eight can be purchased for $360.
The event will be held at the FFA Enrichment Center on the DMACC campus in Ankeny.