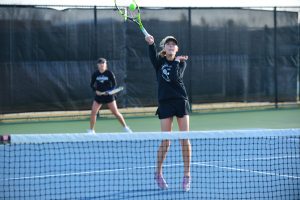 The Ankeny Centennial girls' tennis team raised its overall record to 2-0 with a 10-1 victory over visiting Des Moines Roosevelt in a non-conference meet on Tuesday.
The Jaguars won five of the six singles matches, then swept the five doubles contests. All 10 of Centennial's wins came in straight sets.
"I was pleasantly impressed with the play of our girls tonight," said Centennial coach Emily Phommachack. "We are starting to come together as a solid team, especially in our doubles."
The Jaguars got singles victories from Alli Gustafson, Katie Miller, Rita Nisius, Grace Nemmers and Olivia Vandeloo.
"That was the first time playing varsity singles for Grace and Olivia," Phommachack said. "I was very impressed with their play."
The lone win for the Roughriders (0-2) came at No. 1 singles, where Lydia Berry posted a 6-4, 6-1 victory over Centennial's Alyssa Lewton.
"That was a tough break," Phommachack said. "Alyssa just hasn't found her 'mojo' yet, but she'll get there."
However, Lewton then teamed up with Gustafson for a 6-4, 6-2 triumph over Berry and Elizabeth Kirsner at No. 1 doubles. The Centennial duo won 12 of the last 15 games after falling behind, 3-0, in the opening set.
"Those two are coming together as a solid team," Phommachack said.
Here are the match-by-match results:
Centennial 10, D.M. Roosevelt 1
Singles–Berry (R) beat Lewton, 6-4, 6-1; A. Gustafson beat Kirsner, 6-0, 6-2; Miller beat Pack, 6-2, 6-2; Nisius beat Levich, 6-4, 6-2; Nemmers beat Clay, 6-0, 6-4; Vandeloo beat Sanford, 6-1, 6-1.
Doubles–Lewton/A. Gustafson beat Berry/Kirsner, 6-4, 6-2; Miller/Nisius beat Pack/Ody, 6-1, 6-0; Nemmers/Vandeloo beat Sanchez/Saric, 6-0, 6-1; J. Gustafson/Watson beat Ginsberg/K. Rodgers, 6-3, 6-2; Bloom/Bryan beat E. Rodgers/Langebartels, 6-1, 6-3.