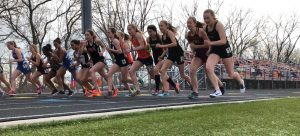 The Ankeny girls' track team was one of five squads that racked up at least 100 points in the Little Cyclone Invitational on Tuesday at Ames.
The Hawkettes scored 100 points even to finish right in the middle of the pack. They placed behind four quality teams, but defeated four other squads in the nine-team meet.
"We had a good night," said Ankeny coach Dennis Adamson. "The team had 12 (personal records), one first place, and several second- and third-place finishes."
The host Little Cyclones edged Southeast Polk to win the team title. They finished with 151.5 points, while the Rams ended up with 147.
Those two teams went 1-2 in six different events, but Ames' sprinters proved to be the difference. The Little Cyclones swept the top two places in the 100 and also won the 4×100 relay in 49.85 seconds, the fastest time in Class 4A this season.
"What I liked the most was how competitive we were," Little Cyclones coach Ben Duea told the Ames Tribune. "And then Melina (Hegelheimer) and Hannah (Buckels) winning that 100 really turned the tide for us, and then we just rode momentum from there. Every race after that, we had something good happen."
Ankeny got a first-place finish from Mytika Mayberry in the long jump. She jumped 16 feet 10.5 inches.
Mayberry later teamed up with Eva van de Mortel, Peyton Daugherty and Jasmine Rumley for a runner-up finish in the 4×100. The Hawkettes posted a season-best time of 50.13.
"Mytika and Eva have continued to grow into their roles as freshmen varsity athletes with the guidance of more experienced athletes such as Peyton and Jasmine," Adamson said.
Scout Bergwall placed second in the 800 with a time of 2:34.33. Alex Robran added a second-place finish in the 3,000.
"We had four seconds on the night," Adamson said. "Scout has been consistently improving each meet in both the the 800 and 400, and Alex has been another consistent runner."