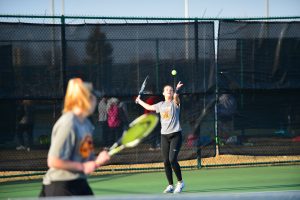 Every point counted on Tuesday in a girls' high school tennis dual meet between Ankeny and visiting Mason City.
The two teams split the six singles matches, which meant that the five doubles contests would decide the meet. The Mohawks won the No. 1 and 2 doubles matches in straight sets, but the Hawkettes managed to win the other three matches–two of them in a third-set tiebreaker–to emerge with a 6-5 victory.
"We had three third-set victories overall that helped us win the meet," said Ankeny coach Katie Owens, whose team evened its record at 1-1 on the season. "Our team is excited to continue to improve with each match."
Karly Weber, Katelyn North and Abby Johnson each won their singles for the Hawkettes. Johnson then teamed up with Morgan Luther for a crucial victory at No. 3 doubles.
"They came back after losing the first set," Owens said. "That was a huge win because obviously we needed it (to win the meet)."
Mason City (0-1) was playing outdoors for the first time this season. The Mohawks have not even practiced outside due to the poor weather conditions in northern Iowa this spring.
"I think we let one get away," Mohawks coach Jim Cornick told the Mason City Globe Gazette. "We just have to keep our intensity…we just have to stay intense and finish things off."
Here are the match-by-match results:
Ankeny 6, Mason City 5
Singles–VanDusseldorp (MC) beat Legg, 7-6 (6), 6-2; Weber (A) beat Henrich, 6-3, 6-4; North (A) beat Andrews, 6-2, 3-6, 1-0 (10); Carpenter (MC) beat Jacobson, 5-7, 6-2, 1-0 (1); Lewerke (MC) beat Luther, 6-3, 6-2; A. Johnson (A) beat Hill, 6-3, 6-1.
Doubles–VanDusseldorp/Carpenter (MC) beat Legg/Weber, 6-1, 7-5; Henrich/Andrews (MC) beat North/Jacobson, 6-0, 6-4; Luther/A. Johnson (A) beat Lewerke/Hill, 5-7, 6-4, 1-0 (8); Blatt/R. Johnson (A) beat Barkema/Yaramadi, 3-6, 6-2, 1-0 (10); Bovee/Somerfeld (A) beat Pope/Sullivan, 6-2, 6-2.