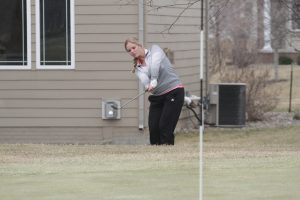 Ankeny Centennial's Tenley Moretti is one of the state's top golfers.
On Wednesday, the Jaguars proved that they can win without her.
While Moretti was out of town, her teammates pulled together to win the Centennial Invitational at Briarwood. They shot a 383 in their first meet of the season to capture the tournament title for the second straight year, finishing 28 strokes ahead of Ottumwa.
"We survived," said Centennial coach Andy Fehn. "It didn't have to be pretty, but more importantly moving forward we know now what we have to work on. It was just nice to see the ball up in the air, considering that we haven't been able to practice much because of the weather."
Ankeny placed third in the six-team field with a 429 total. The Hawkettes tuned up for the tournament with a nine-hole meet against Southeast Polk on Tuesday at Copper Creek.
"Just seeing how well we played (on Tuesday) gave me a lot of confidence," said Ankeny coach Seth Hagarty. "Having Kelsey (Hensen) play well and Caroline (Price) didn't have the best day but I've seen her score well, and so I was pretty confident that we'd finish hopefully in the top half. It was exciting to watch them compete at that level."
Centennial sophomore Lauren Sease carded a 90 to earn medalist honors. She had six pars on the day and made a birdie on the par-5, No. 14 hole.
"One of Lauren's goals coming into the year was to break 90, and to shoot 90 on a day where it wasn't easy to play and the course was pretty tough, she really stepped up," Fehn said.
Ankeny was led by freshman Jaci Webb, who shot a 93 to claim runner-up honors. She had a 44 on the front nine, then made a birdie on the par-5, No. 12 hole.
"You can tell that she's put in a lot of time up to this point in her life," Hagarty said. "Golf is probably her No. 1 love, and it definitely shows on the course. She was a little frustrated with the way she played, because I think she feels she can score better than a 93. But she's young and this is only her second meet, and I told her to have patience. She'll get there."
Centennial placed four golfers in the top six. Megan Lazear was fourth with a 96, Nikki Ault took fifth with a 97, and Elli Teeple finished sixth with a 100.
Emma Meter placed 13th for the Jaguars with a 108. Emily Davis shot a 120.
"I was really proud of how we competed and got around the course," Fehn said.
Price carded a 107 to place 12th for the Hawkettes. Rachel Moore carded a 114, Lexi Russell had a 115, Hensen shot a 116, and Emily Schon had a 126.
"We had pretty good conditions," Hagarty said. "It was cloudy and overcast and a little breezy, but overall Jaci played well again and Caroline played well for us as well."