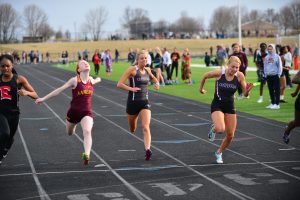 Although six other girls' track teams competed in the Ron Werling Relays on Thursday at Indianola, the meet was dominated by the two schools from Ankeny.
Ankeny High School won eight events and racked up 158 points to claim the team title for the third straight year. Ankeny Centennial was second with 117 points.
"The team is making strides toward getting better in a busy week of three meets," said Ankeny coach Dennis Adamson. "The girls are seeing their hard work and desire pay off."
The Jaguars also had a good night, winning four events. They captured three of the seven relays.
"It was a great night for the town of Ankeny," said Centennial coach Andrew Kruzich. "I'm really proud of our girls, and of course the Hawkettes, too."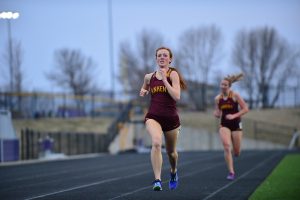 Ankeny dominated the distance events, posting 1-2 finishes in both the 1,500 and 3,000. Meghan Trimble won the 1,500 in a time of 5:06.36, defeating teammate Alex Robran (5:08.41) by about 2 seconds. The margin was even closer in the 3,000, where Fiona Riordan won the race in 12:06.47 to edge teammate Lauren Clark (12:07.62).
The Hawkettes also got victories from Mytika Mayberry in the 100 (12.85), Malea Daugherty in the 100 hurdles (16.29), Jasmine Rumley in the long jump (17-7) and Sydney Flatness in the shot put (35-5). Mayberry set a personal record.
"She is becoming a solid 100-meter runner with better starts and running form," Adamson said of Mayberry.
Mayberry and Rumley also teamed up with Eva van de Mortel and Peyton Daugherty to win the 4×100 relay in 49.87 seconds. The same foursome took second in the 4×200 in 1:50.36.
"We automatically qualified our 4×100 relay to the Drake Relays by running faster than the Relays Blue Standard," Adamson said. "The time is third place on the school's all-time Top 5 list."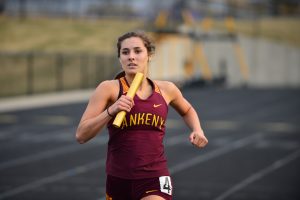 Ankeny's other victory came in the distance medley relay. The team of Naomi Casady, Sydni Wendling, Holly Trimble and MaKenna Drea was clocked in 4:39.14.
Centennial's Calea Jones won the high jump with a leap of 5 feet, while teammate Sophie Lampe was second based on fewer misses at 4-8. Betsy Ridout was the runner-up in the long jump, setting a personal record of 16-11.5.
Ridout and Jones also teamed up with Karri Pippett and Katie Saddoris to win the 4×200 in 1:47.82.
"We had an unusual lineup," Kruzich said. "In normal years we don't run our top varsity girls here to rest for Jim Duncan on Saturday. But this year we felt like we had to take advantage of the weather, so we brought some of our top girls down to run qualifying times for Drake, left some of our top distance girls at home, and filled the rest of the meet with our developing girls. Second place is a great finish under those circumstances."
Centennial won the 4×400 relay in 4:07.22. That team consisted of Pippett, Kathryn Vortherms, Emma Gordon and Megan Gray.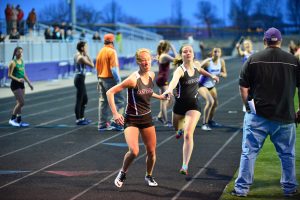 Pippett also teamed up with Katie Petersen, Meg Ridout and Jones to win the shuttle hurdle relay in 1:07.22.
"Karri and Calea were both part of three wins," Kruzich said. "Karri is our Jag Award winner for the varsity as she just flew in the shuttle hurdle and has been a great leader all season. She had a big week of performances, especially tough after we had prom last weekend. I'm excited to see how the rest of her season goes."
The Jaguars focused their efforts on trying to qualify for the Drake Relays in several events. They posted the state's third-fastest time in the shuttle hurdle relay.
"Obviously, we feel really good about what we were able to accomplish, and we are on track to get several events into Drake," Kruzich said. "On top of that, our team was enthusiastic and focused throughout the night. It's amazing what one nice night of weather can do for everybody's performances–and mental health. Our girls have been positive throughout the season, but seeing 60 degrees and a little bit of sun was a lot of fun."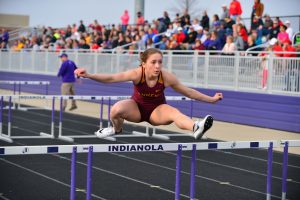 Here are the rest of Ankeny and Centennial's top finishes:
100–van de Mortel (A), 13.05 (4th); B. Ridout (AC), 13.06 (5th); Saddoris (AC), 13.18 (6th).
200–Saddoris (AC), 27.78 (2nd); Elle Dalton (A), 28.57 (6th).
400–Madeline Murphy (A), 1:03.58 (3rd); Kailey Becker (A), 1:07.62 (5th).
800–Megan Bosch (A), 2:34.65 (4th); Sophia Lee (AC), 2:39.44 (5th).
100 hurdles–Petersen (AC), 16.58 (3rd); M. Ridout (AC), 17.29 (5th).
1,500–Brianna Smith (AC), 5:25.32 (4th); Sydney Lee (AC), 5:27.78 (5th).
3,000–Emma Arends (AC), 12:27.91 (3rd).
400 hurdles–Ellie Wilson (AC), 1:12.97 (2nd); Sarah Bosch (A), 1:13.10 (3rd).
Long jump–M. Daugherty (A), 16-6.75 (3rd); Allie Robinson (AC), 14-10.25 (5th).
Shot put–Maxine Schulz (AC), 33-2 (4th); Alex Heston (AC), 31-10 (5th).
4×800 relay–Ankeny (Murphy, Scout Bergwall, M. Bosch, M. Trimble), 10:09.36 (2nd).
Sprint medley–Ankeny (van de Mortel, P. Daugherty, M. Daugherty, Wendling), 1:55.86 (tied for 2nd).