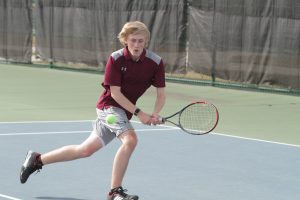 The wait was worth it for the Ankeny boys' tennis team.
After having their first three meets of the season either postponed or cancelled due to bad weather, the Hawks finally got a chance to compete on Thursday. And they made the most of it, posting a 9-2 victory over visiting Southeast Polk in a CIML Central Conference dual meet.
"I was pretty pleased with the outcome," said Ankeny coach Randy Daniels. "It was our first meet and all the other teams had played two or more, so we came out pretty nervous and it kind of showed in some of the singles matches. Once they got a few games under their belt, they were able to play much more relaxed and the play showed that."
Ankeny won five of the six singles matches. Logan Scheer and Jayce Goergen, the Hawks' top two players, combined to lose just two games en route to their victories.
Scheer and Goergen then teamed up for another win at No. 1 doubles, helping Ankeny to seal the victory.
"Logan and Jayce played well, especially since Logan wasn't 100 percent," Daniels said.
The Rams dropped to 0-2 in the conference and 1-2 overall.
Here are the match-by-match results:
Ankeny 9, S.E. Polk 2
Singles–Scheer beat Beaune, 6-0, 6-0; Goergen beat Gillotti, 6-0, 6-2; Snyder beat Benshoof, 6-4, 6-3; Schon beat Jorgenson, 7-5, 6-3; VanRees beat Errthum, 6-4, 2-6, 1-0 (3); Savage (SEP) beat Bush, 6-4, 6-7, 1-0 (8).
Doubles–Scheer/Goergen beat Beaune/Benshoof, 6-2, 6-2; Snyder/Schon beat Gillotti/Jorgenson, 6-3, 6-2; VanRees/Bush beat Errthum/Joy, 6-2, 0-6, 1-0 (5); Savage/Person (SEP) beat Parkinson/Davis, 4-6, 6-2, 1-0 (5); Lee/Wu beat Reed/Benson, 6-3, 7-5.