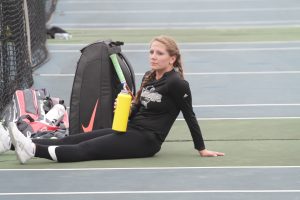 The Ankeny Centennial girls' tennis team was not at full strength for Thursday's CIML Central Conference dual meet at Valley.
The Jaguars played without three varsity regulars and suffered an 8-3 loss.
"Being down three varsity players makes a huge difference in a meet against a competitive team like Valley," said Centennial coach Emily Phommachack. "(Grace) Nemmers and (Olivia) Vandeloo really had to fill some big shoes, but they left the court learning quite a bit."
Alli and Jordyn Gustafson each won their singles matches in straight sets for Centennial. The Jaguars also got a victory from the No. 5 doubles team of Rachel Ryan and Abby Bendezu, who made their varsity debut.
"They did an excellent job of communicating and being aggressive," Phommachack said of the duo.
Valley improved to 2-0 in the Central Conference and 4-0 overall. Centennial's records dropped to 1-1 and 2-1.
Here are the match-by-match results:
Valley 8, Centennial 3
Singles–Morrow beat Lewton, 6-4, 6-1; A. Gustafson (AC) beat Torgerson, 6-0, 6-2; Stewart beat Nemmers, 6-1, 6-2; Lagomarcino beat Vandeloo, 6-0, 6-1; J. Gustafson (AC) beat Auer, 6-1, 6-4; Annonson beat Watson, 6-1, 6-0.
Doubles–Torgerson/Stewart beat Lewton/A. Gustafson, 4-6, 6-3, 1-0 (8); Morrow/Lagomarcino beat Nemmers/Vandeloo, 6-1, 6-0; Auer/Beardsley beat J. Gustafson/Watson, 6-1, 6-4; Annonson/Boal beat Bloom/Guan, 2-6, 7-5, 1-0 (6); Ryan/Bendezu (AC) beat Amalker/Dobrinov, 6-3, 6-4.