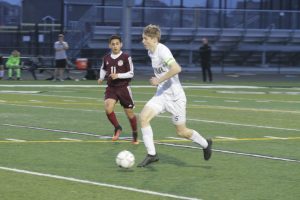 Ankeny Centennial boys' soccer coach Brian Duax expected Thursday's game against Dowling Catholic to be a defensive struggle.
"We knew that Dowling was going to defend like crazy," Duax said. "That is their strength, and they're hard to break down and they were."
The third-ranked Jaguars managed to score only one goal, but that was all they needed to post a 1-0 victory in the first game ever played on Centennial's turf field. They raised their record to 5-0, while Dowling dropped to 0-3.
Sophomore Cole Vincent scored the game's only goal in the 30th minute, his third of the season. He was assisted by Will Overberg, who now leads the team in both goals (4) and assists (4).
Centennial scored on a counter-attack after the Maroons lost possession of the ball.
"That was the game plan," Duax said. "As soon as they lost the ball, they tried to get 11 guys behind the ball as quickly as they could. So when they defend with all 11 guys, they're tough to break down. But as they attacked, if we could take possession and counter quickly, then all of the sudden they're not defending with 11 guys. They're defending with four or five, and it's much easier to break them down."
Centennial goalkeeper Cole Pankey was credited with four saves as the Jaguars notched their third shutout of the season. Dowling had scored a total of four goals in its first two losses.
"I never thought they were dangerous enough to score," Duax said. "My only worry was whether or not we could be tactical and disciplined enough to score one on them. They were very disciplined in what they did and made it very difficult for us."
Duax, who left Ankeny last summer to take over the Centennial program, has been pleasantly surprised by his team's fast start. The Jaguars already own victories over No. 7 Cedar Rapids Washington and No. 10 Iowa City West, the defending Class 3A state champion.
"We've played some very good teams that are getting some good results," Duax said. "I don't know if I would have predicted a 5-0 start when I took the job with the schedule that I put together, but we're trying to make sure that we're continuing to get better and that we're not complacent.
"If we're not hungry, that 5-0 record will go to 5-3 in a hurry with the teams that we have to play in the CIML," he added.