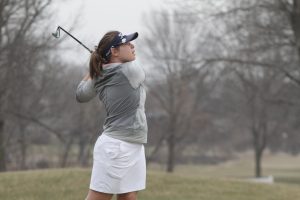 Sophomore Lauren Sease led the Ankeny Centennial girls' golf team to a first-place finish in the Centennial Invitational on Wednesday at Briarwood, while junior Caroline Price helped Ankeny to a third-place finish.
Sease carded a 90 to earn medalist honors, edging Ankeny freshman Jaci Webb by three shots. She helped the Jaguars to a 28-stroke victory over Ottumwa.
Price fired a 107 for the Hawkettes. She finished 12th as an individual.
Here is some inside info on the duo:
What did you think of your team's performance at the Centennial Invitational?
Price: I was extremely proud of my team overall. It was our first 18-hole meet of the season, and for a few it was their first 18 holes ever! No matter what our scores were, before the awards were given out we were all sitting together in the clubhouse at Briarwood joking around a little and having fun. I admire everyone on the team for being so professional on the course and being such good sports.
Sease: I felt that my team's overall performance was pretty good. Even though I know a lot of my teammates weren't happy with their scores, it makes me excited to see how we will be playing by the end of the season.
Were you happy with how you played?
Price: I was content with how I played! The dual meet we played at Copper Creek vs. Southeast Polk on Tuesday did not go well for me at all, but I was able to bounce back on Wednesday which felt amazing. I went from one of the worst meets I've ever played to one of the absolute best! Everybody has bad days, and I'm so glad I was able to come back Wednesday and do better. I'd never gotten a medal before Wednesday! I'm proud of how far I've come, but I have a ton of more space to improve and I'm super excited to do so! The Centennial Invitational made me even more eager to get to practice and work.
Sease: I thought I played pretty well, although I had some rough holes. I had hoped I could have scored a little better.
Goals for the season?
Price: My main goal this season is to hit longer drives. My drives are usually pretty nice and straight, but I'd really like to add some more distance. I also want to get to know my teammates and create a great team bond! I absolutely loved my team last year, but we didn't know each other very well! I was always nervous to play with some upperclassmen because I thought they'd judge me. Now that I'm one of the upperclassmen, I want to make sure that everybody feels welcome and comfortable (and excited to play golf)!
Sease: I would really like to start scoring in the 80s as much as possible.
What is the strength of your game?
Price: The main strength of my game is definitely putting. Sinking some long putts has saved me a few strokes in the past and recently.
Sease: Right now I think the strength of my game is my iron play. My irons were especially what helped with my score at the invitational; I was getting it on the green and pretty close to the hole.
What part of your game needs the most work?
Price: My chipping needs work. A lot of my chips on Wednesday were too short and caused me to waste extra strokes.
Sease: At the moment, my putting is kind of all over the place and it's negatively impacting my score.
Favorite course to play?
Price: My favorite course to play (other than Otter Creek, our home course) is probably Sugar Creek in Waukee! It's challenging and it's such a beautiful course! I'm very excited to play there this year.
Sease: I think my favorite course to play is probably Otter Creek because I play it more than any other course and spend a lot of time there.
Lauren, your teammate–Tenley Moretti–was the Class 5A state champion as a sophomore in 2016. What have you learned from watching her play?
Sease: I would say that I've learned how much dedication it takes to play at her level. It's awesome to see how she plans out practices for herself and will often be the first one there or the last one out or even both.
Another Centennial sophomore, Karli Kerrigan, was the state champion in 2014. Does that mean it's your turn to be the state champion this season?
Sease: My teammates said the same thing last year on the way back from the state tournament and it was funny because I remember Tenley saying, "Not if I have anything to say about it!", which is very true. I don't think that it is my year yet, but I really hope that Tenley can do it again this year.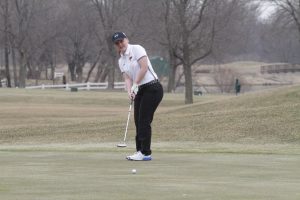 Caroline, your team has a new head coach this year in Seth Hagarty. Has it been a smooth transition from coach Toni Dickey to coach Hagarty?
Price: The transition between head coaches has been very smooth! Coach Hagarty is an amazing coach. He is always encouraging and is full of suggestions for us to further improve. We also have a new assistant coach, coach (Nick) Maile, and he's awesome too! They're both very creative, especially when it comes to finding ways around the bad weather. I love being able to tell that my coaches love the game and are just as excited about it as I am!
Your team has some talented new players, including Webb. What have the newcomers brought to the squad?
Price: Jaci is not only great at golf, she's really funny and nice too! She brings a higher sense of professionalism to all of us on the course. I look forward to getting to know her more throughout the season. I love all of the new people on the team! We have newcomers of all different levels this year, which is so exciting! It's going to be a season of improvement for everybody. I absolutely love seeing more experienced players pause their own practicing in order to help a player with less experience.
Did you watch the Masters? If so, who were you rooting for at the end?
Price: I did watch the Masters! Whenever I had to leave the house I made sure to stream it on my phone with my PGA app! Charley Hoffman is my favorite golfer, so of course I was rooting for him through it all. But toward the very end I was really hoping Rickie Fowler could pull through and win it!
Sease: I watched as much of the Masters as I could and I was hoping to see Tiger Woods win. I think he's been in contention to win in just about every tournament he's played this year, and it would have been nice for his first win in years to be the Masters.
Patrick Reed, who won the tournament, doesn't seem to be very popular among his fellow players. Are you familiar with his background?
Price: I am familiar with Patrick Reed's background. Honestly, I'm not the biggest fan of him, like many others. Of course I don't know him personally, but from what I've seen he just doesn't have very great character. I'd rather cheer for an untalented yet kind golfer than a talented golfer who lacks good character.
Sease: I've known of Patrick Reed for awhile, although I haven't ever become much of a fan of him. But, it was cool to see someone who isn't the biggest name in golf step up and win a huge tournament like the Masters.