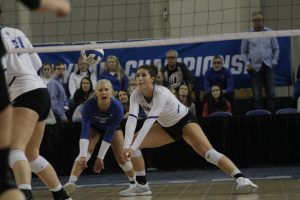 A scrimmage between NCAA Division I volleyball powers Creighton and Wisconsin will be held on Sunday at Ankeny Centennial, beginning at 1 p.m. Admission is free.
Creighton's roster includes former Ankeny standout Megan Ballenger and former Centennial star Jaali Winters. They helped the Bluejays to their fourth consecutive Big East Conference regular-season and tournament titles last year.
Winters, a senior-to-be, is one of the nation's top outside hitters. She earned first-team all-conference honors last season and was a third-team all-American as a freshman in 2015.
Winters is expected to graduate in December after playing her final season for the Bluejays. She was previously planning to play two seasons of beach volleyball as a graduate student, but has changed her mind and is now planning to turn pro–which means she will be heading overseas.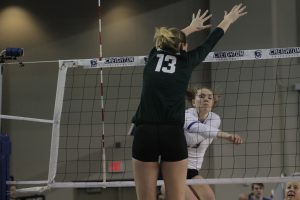 Ballenger, a junior-to-be, is a middle blocker and right-side hitter. She sat out her first collegiate season as a redshirt after suffering an injury, but has become a key player for the Bluejays over the last two seasons, starting 32 of the 33 matches a year ago.
Wisconsin joined Creighton in last year's NCAA Tournament. The Badgers defeated Iowa State in a second-round match at Ames before losing at Stanford in the Sweet 16.
Current Centennial standout Devyn Robinson, a junior-to-be, has committed to play for Wisconsin. She will join the Badgers' program in the fall of 2020.
This will be the second straight year that the two teams have played each other in a spring scrimmage. Wisconsin picked the site of last year's scrimmage, so now it was Creighton's turn.
"They asked if we'd like to host," said Centennial volleyball coach Jessica Rinehart. "I've known their coach (Kirsten Bernthal Booth) for a long time, and having Jaali as a former Jaguar made Centennial a great place for it. Plus, Kirsten knows that our school and town love and embrace volleyball."