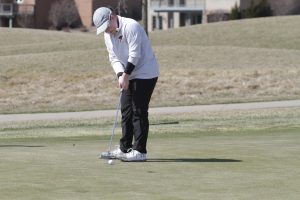 The Ankeny girls' golf team struggled on its home course Tuesday and dropped a 213-228 decision to Ames in a CIML Central Conference dual meet at Otter Creek.
The meet was played even though there was some snow on the golf course. The Hawkettes, who fell to 0-2 in the conference, have not been able to practice for several days due to bad weather.
"This may have been the first time I have ever seen golfers on a course with snow on it so that had to be challenging for the players," said Ankeny coach Seth Hagarty. "It's very early in the season, and the weather has been less than desirable. However, I have confidence with more practice and time on the course that the girls will continue to improve and find success."
Megan Riesselman of Ames carded a 46 to earn medalist honors. Ankeny's Caroline Price was the runner-up with a 50.
"Caroline stepped up again for us," Hagarty said.
Jaci Webb also shot a 50 for the Hawkettes. Lexi Russell fired a 61, Rachel Moore had a 67, Kelsey Hensen shot a 69, and Emily Schon finished with a 71.