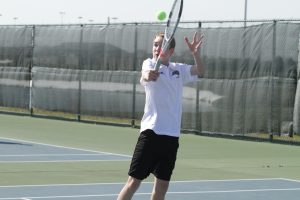 It only took five dual meets for the Ankeny Centennial boys' tennis team to match its win total from last year.
The Jaguars rolled to a 10-1 victory over visiting Mason City on Tuesday to raise their record to 4-1. They finished with a 4-7 mark a year ago.
"After losing to Mason City 10-1 last year, we turned the tables on them," said Centennial coach Tami Lewton. "We were pushed in a few matches, but I was really proud of our team."
Mason City's only win came at No. 1 doubles, where Brian VandenBerg and Nicholas Matthews teamed up for a 6-0, 6-4 victory over Sam Marold and Ryan Lofgren.
"They're a tough team," Lewton said of the Mohawks' duo. "We started to crack the code in the second set. If our guys can play like they did in the second, more aggressive and owning the net, they will be much more successful."
The loss dropped Mason City to 1-2 on the season.
"We didn't have much practice time the last three weeks and it kind of showed," Mohawks coach Pat Kruger told the Mason City Globe Gazette. "We gave them a lot of errors, serve returns, double faults. We fought hard, but didn't play our best. Overall, impressed with the effort and not results."
Here are the match-by-match results:
Centennial 10, Mason City 1
Singles–Blevins beat VandenBerg, 6-2, 7-5; Marold beat N. Matthews, 6-2, 6-3; Lofgren beat J. Matthews, 6-3, 6-3; Densmore beat Yarahmadi, 7-5, 6-1; Cole beat Hansen, 6-1, 6-2; Peterson beat Redinger, 6-1, 7-5.
Doubles–VandenBerg/N. Matthews (MC) beat Marold/Lofgren, 6-0, 6-4; Blevins/Densmore beat J. Matthews/Yarahmadi, 6-0, 6-4; Cole/J. Unick beat Hansen/Pistek, 6-1, 6-2; Peterson/Tressel beat Redinger/Rodning, 6-4, 7-5; Den Adel/A. Unick beat Brick/Sedars, 6-2, 6-0.