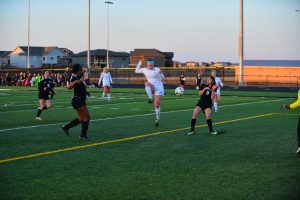 On Friday night, the Ankeny Centennial girls' soccer team was unable to find the net in a season-opening loss to top-ranked Waukee.
That wasn't a problem on Tuesday.
The third-ranked Jaguars scored early and often and went on to defeat visiting Des Moines Hoover, 12-0, in a non-conference game that was halted at halftime due to the mercy rule.
"The goal wasn't to run up the score like that, but the girls came in hungry and the opportunities were falling as a result of the game plan–and you can't fault the girls for taking their chances," said Centennial coach Chris Allen. "They're not going to pull the ball away from the goal and give up a good chance or a good look."
Lexie Gutknecht had four goals and an assist to lead the Jaguars. The Northwest Missouri State recruit already had a hat trick barely 5 minutes into the game.
"Lexie had a big night," Allen said. "That was a big deal for her because I don't think she even got a shot off against Waukee, so she turned it around and scored with a variety of appendages. She knocked one in with her head and of course scored a couple with her feet."
Gillian Nithang added a pair of goals as the Jaguars evened their record at 1-1. Olivia Wee chipped in a goal and an assist, while Marisa Smith had two assists.
"Sometimes, (the goals) don't come. So when you have the opportunity, it's hard not to take it," Allen said. "We really wanted to execute the things that we weren't executing well on Friday night, and sure enough the execution was there."