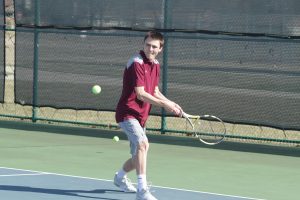 The Ankeny boys' tennis team lost only two sets en route to an 11-0 victory over visiting Des Moines East on Tuesday.
The Hawks improved their record to 2-0. The Scarlets dropped to 1-3.
"I was happy with the way our guys came out and played," said Ankeny coach Randy Daniels. "If they fell behind, they just did what it took to get back on top."
Ankeny's Caleb VanRees posted a 6-0, 6-0 victory over Jacob Cort in the No. 5 singles match. He then teamed up with Cameron Bush for another 6-0, 6-0 win over Victor Burns and Caleb Thompson at No. 3 doubles.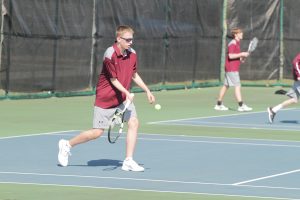 "Caleb did not lose a game in singles or doubles," Daniels said. "He was pretty pumped about that."
Here are the match-by-match results:
Ankeny 11, D.M. East 0
Singles–Scheer beat Robinson, 6-0, 6-1; Goergen beat Jones, 6-1, 6-1; Snyder beat Weichman, 5-7, 6-0, 1-0 (4); Schon beat Burns, 6-0, 6-1; VanRees beat Cort, 6-0, 6-0; Bush beat Zane, 6-1, 6-3.
Doubles–Scheer/Goergen beat Robinson/Weichman, 6-3, 6-1; Snyder/Schon beat Jack/Mohne, 6-1, 6-4; VanRees/Bush beat Burns/Thompson, 6-0, 6-0; Parkinson/Davis beat Liu/Pranivong, 6-3, 6-1; Lee/Wu beat Zane/Cooper, 6-2, 3-6, 1-0 (5).