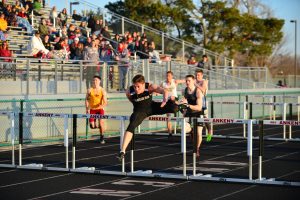 The battle for second place in the Fred Smith Hawk Relays on Tuesday came down to the wire.
Ankeny held a one-point lead over crosstown rival Ankeny Centennial going into the final event, but the Jaguars then took second in the 4×400 relay–while the Hawks finished fourth–and that allowed Centennial to earn runner-up honors with 82 points. Ankeny took third in the 16-team field with 80 points.
"We were just trying to get in some races and compete," said Centennial coach Nate Smith. "As coaches, we were pleased with how everyone competed."
Waukee easily won the meet for the sixth straight year, racking up 133 points. But Ankeny and Centennial both turned in some strong performances throughout the meet.
"I was very happy with how we performed," said Ankeny coach Nick Nelson. "Our team and coaches are doing a great job of getting ready for the (rest of the season). We will have another shot to qualify some more things (for the Drake Relays) on Thursday. As of right now, we have a few events in for sure and some right on the bubble to qualify. The next few days will be a great opportunity for our team to step up and compete."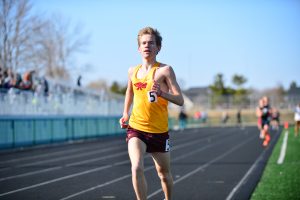 Centennial was led by Riley Moss, who easily won the 110 hurdles in 14.28 seconds. He is currently ranked No. 1 in the state in that event.
"There was a little bit of a headwind, so I wasn't expecting to beat the 14.05 that I ran last week," Moss said. "But it was overall a pretty good race. I was pretty happy with it."
Moss later teamed up with Avery and Jensen Gates and Ryan VanBaale to win the 4×100 relay in 42.60 seconds. That victory pulled the Jaguars to within a point of Ankeny, 75-74, going into the final event.
Centennial's 4×400 relay team of Brendan Hoy, Liam Murphy, Dylan DeAngelo and Camden Cox then posted a time of 3:30.94. The Jaguars finished more than 3 seconds ahead of Ankeny.
Hoy earlier placed second in the 400 in 51.12 seconds. He broke the school record.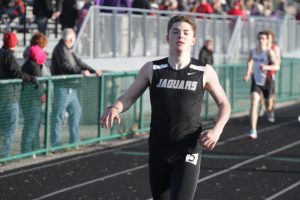 Avery Gates won the 200 in 23.67. He also placed fifth in the 100 in 11.56.
The Jaguars also placed second in the 4×800 relay in a season-best time of 8:08.85. That team consisted of Jonah Vicker, Cox, Seth Pippett and Ahren Davis.
"The 4×800 improved their time, and we also had many (impressive) individual performances," Smith said.
Ankeny's Tim Sindt won a pair of races. He easily captured the 3,200 in a time of 9:42.37, then later edged Indianola's Quentin Linnan by .45 seconds to win the 1,600 in 4:28.63.
"I was happy with my times," Sindt said. "I was able to run times that should be pretty safely into Drake without having to push all out, which feels really good."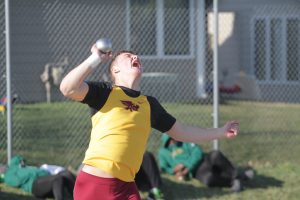 Teammate Jacob Baier placed second in the discus with a throw of 160 feet 4 inches. He took sixth in the shot put with a toss of 50-1.
The Hawks added a runner-up finish in the shuttle hurdle relay. The quartet of Cael Boyd, Mason Thompson, Nick Scherle and Connor Niffenegger was clocked in 1:00.38, edging Centennial by .34 seconds.
However, Ankeny later missed a chance to score some points in another relay.
"We had a slip up on the 4×200 and could not finish," Nelson said.
Here are the rest of Ankeny and Centennial's top results:
100–VanBaale (AC), 11.60 (6th).
400–Chris Parks (A), 53.68 (5th).
800–Davis (AC), 2:04.19 (3rd).
110 hurdles–Niffenegger (A), 15.76 (3rd).
Long jump–Cooper Cox (A), 20-4.25 (3rd); Kyle Johnson (A), 20-0.25 (4th).
Shuttle hurdle–Centennial (Jon Wong, DeAngelo, Tyler Johnson, Joel Hyler), 1:00.72 (3rd).
Distance medley–Ankeny (Boyd, Brody Brecht, Anyoun Anyoun, Cole Johnson), 3:49.79 (3rd).