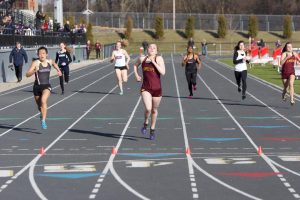 Some of the state's top girls' track talent was on display Tuesday in the Jim Duea Invitational at Ames.
Waukee scored 200 points to win the meet for the fourth straight year, but several other CIML teams also had impressive showings. Ankeny Centennial and Dowling Catholic tied for second with 101 points, while Ankeny placed fifth in the nine-team field with 68 points.
"It was another cold night, but the performances were hot," said Ankeny coach Dennis Adamson. "It had to be one of the most competitive meets around this season. We had one first, one second, and two third-place finishes, and all were our season bests."
Perhaps no event had more quality depth than the hurdles races.
"Our shuttle hurdle held up Ok in a heat that featured the fastest four teams in the state," said Centennial coach Andrew Kruzich. "The hurdling was so good that Katie Petersen might qualify for the Drake Relays in the 100 hurdles, and she finished ninth in the event. There's just some crazy deep talent in the hurdles in central Iowa."
Petersen's time of 15.82 seconds was also one of the fastest in school history. She now ranks second on the school's all-time list.
Ankeny's Malea Daugherty placed eighth in the same event. Her time of 15.73 would have placed her among the top 15 finishers at last year's state meet preliminaries.
"That was an amazing race," Adamson said.
The Jaguars won three events, including both jumping competitions. Calea Jones tied her own school record with a leap of 5 feet 1 inch in the high jump, while Betsy Ridout took the long jump with an effort of 16-10.
"I was happy to come out with two wins in the jumps," Kruzich said. "Betsy 'proved' her lifetime best from last week by jumping within 1/2 inch again, and has been very consistent this year. Calea has missed some practice time, but is rounding into form and looking much more rhythmic in her approaches and jumps."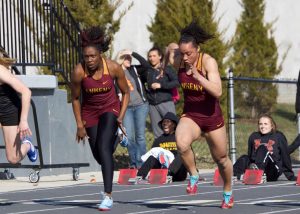 Ankeny's Jasmine Rumley rebounded from a sixth-place finish in the long jump to win the 100 in 12.56 seconds. It was the second-fastest time of her career.
"We had some trouble in the field events," Adamson said. "Jasmine was disappointed in her long jump, but she put that aside and came back to win the 100."
Centennial's Katie Saddoris placed third in the 100 in 12.71, while Ridout took fifth in 12.82. Those were the second- and third-fastest times in school history.
"It was another really good meet for us," Kruzich said. "We went in trying to take advantage of the tailwind in the 100 and 100 hurdles, and Saddoris, Ridout and Petersen all had significant drops in those open events to hopefully qualify for Drake. That was nice to see."
The Jaguars' other victory came in the 4×800 relay. The foursome of Jeanne Peters, Emma Gordon, Kathryn Vortherms and Megan Gray posted a time of 9:46.91, just missing the school record.
"Our 4×800 continues to run well, dropping more time and hopefully locking up a Drake spot," Kruzich said.
The Hawkettes placed third in the event with a time of 9:57.92. That team consisted of Meghan Trimble, Madeline Murphy, Megan Bosch and Scout Bergwall.
Bergwall, who also took fifth in the 400 in 1:04.87, had the best split of the foursome.
"The 4×800 team cut over 12 seconds off their season-best time," Adamson said.
Ankeny also got a second-place finish from Alex Robran in the 3,000. She was clocked in 10:44.27.
"Alex ran the best time of her career," Adamson said. "She has had a great season so far in her distance events."
Both teams will compete in the Urbandale Invitational on Thursday. It will be their final chance to qualify for the Drake Relays.
"We have a good chance to qualify in five events, and we will give one last try in three others on Thursday," Adamson said.
So will the Jaguars.
"We'll keep churning out good efforts and see what happens," Kruzich said.
Here are the rest of Ankeny and Centennial's top finishes from the Duea Invitational:
100–Mytika Mayberry (A), 12.85 (6th).
400–Gray (AC), 1:03.57 (3rd); Jordan Su (AC), 1:05.36 (6th).
800–Vortherms (AC), 2:28.09 (5th).
1,500–Gordon (AC), 5:05.22 (3rd); M. Trimble (A), 5:11.28 (6th).
400 hurdles–Karri Pippett (AC), 1:10.90 (4th).
Long jump–Rumley (A), 15-6.5 (6th).
Shot put–Sydney Flatness (A), 34-4.25 (4th).
4×100–Centennial (Hannah Wilson, Jones, B. Ridout, Saddoris), 51.13 (2nd).
4×200–Centennial (B. Ridout, Pippett, Jones, Saddoris), 1:48.25 (2nd).
Distance medley–Ankeny (Naomi Casady, Sydney Brenning, Holly Trimble, Sarah Bosch), 4:35.78 (3rd).