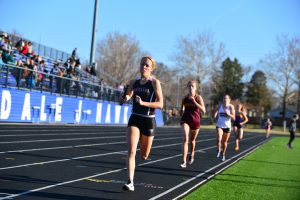 Going into the final event at the Chuck Silvey Invitational on Thursday at Urbandale, the Ankeny and Ankeny Centennial girls' track teams were tied for second place with 88 points apiece.
The Jaguars then placed third in the 4×400 relay to earn the runner-up spot in the eight-team field, finishing with 94 points. The Hawkettes were disqualified in the event and settled for a third-place finish overall.
"We ran a season PR in the 4×400, but we had an exchange zone violation and the team was DQ'd," said Ankeny coach Dennis Adamson.
Dowling Catholic easily won the team title. The Maroons racked up 131 points.
Centennial won two events and placed second in three others.
"What I'm most proud of is that we could 'take apart' a lot of relays and events and still finish second at the meet," said Centennial coach Andrew Kruzich. "Our 4×800 ran sub-10:00 with our 5th-8th 800 runners in it. That would be the 17th-best 4×800 in Class 4A right now. We ran three subs in the shuttle hurdle and got third. It's a good indication of the top-to-bottom health of our program."
Centennial's Betsy Ridout won the long jump with a leap of 16 feet 1/2 inch. She outjumped runner-up Malea Daugherty of Ankeny by 3 1/4 inches.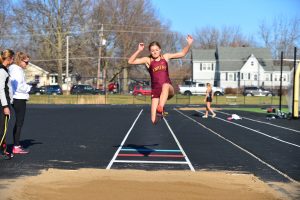 The Jaguars also edged their crosstown rival to win the distance medley relay. The foursome of Jenny Hagg, Kathryn Vortherms, Claire Wubben and Megan Gray posted a time of 4:28.68, while the Ankeny team of Elle Dalton, Sydney Brenning, Holly Trimble and Sarah Bosch was second in 4:31.21.
Vortherms also teamed up with Hannah Wilson, Ridout and Katie Saddoris to place second in the sprint medley relay. Centennial was clocked in 1:51.33.
"Kathryn is a freshman, and she anchored our sprint med for the first time and ran a 58.9 split (on the 400-meter leg) to get us into the Drake Relays," Kruzich said. "That was a huge performance, and we're very excited for her future."
Centennial's Karri Pippett placed second in the 400 hurdles in 1:08.10. Teammate Emma Gordon was third in the 1,500 in 4:54.34.
"We wanted to give both of those girls a fresh chance in those races," Kruzich said. "Karri dropped over a second off of her season's best, and Emma ran a lifetime best in a stacked race. Emma should be into Drake."
Ankeny's Mytika Mayberry won the 100 in 12.66, edging teammate Eva van de Mortel by .02 seconds. Both were personal bests.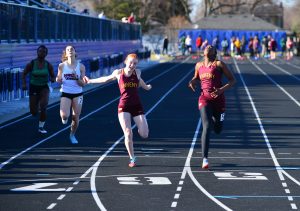 Those two later teamed up with Peyton Daugherty and Jasmine Rumley to win the 4×100 relay in 49.60 seconds. The same quartet took second in the 4×200 relay in 1:46.55.
"Our 4×100 is getting better each meet now," Adamson said. "Their handoffs, which weren't the best at this meet, are becoming the key to getting even faster. This performance moved them up to second all-time for AHS."
The Hawkettes' other win came in the 3,000, where Alex Robran posted a time of 10:49.60. She won the race by more than 15 seconds.
"Alex ran well again and had the second-best time of her career," Adamson said. "She had the difficult task of running with no competitors close by during the race."
Ankeny's Sydney Flatness added a third-place finish in the shot put. She had a throw of 34-10.5.
Kruzich said the Jaguars have likely qualified for Drake in a program-high 10 events.
"The girls did a great job battling through some tough weather and frustrating cancellations," he said. "It'll be a fun last four weeks of the season, and we can't wait to see what we can do."
Ankeny will also be well represented at Drake. The Hawkettes have likely qualified in six events.
Rumley will compete in the 100, long jump and 4×100 and 4×200 relays.
"We have had individual team members qualify in four events before like Jasmine this year," Adamson said. "However, we have never, at least in the 28 years I have been head coach, had three of our team members qualify in the same individual event. As it looks now, Jasmine will be joined in the 100 by Mytika and Eva."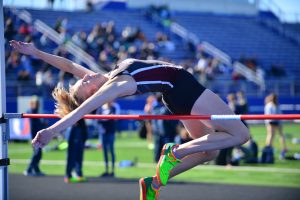 Here are the rest of Ankeny and Centennial's top finishes at Urbandale:
200–Saddoris (AC), 26.79 (3rd).
400–Cierra Fillinger (A), 1:06.70 (4th); Olivia Naylor (AC), 1:06.71 (5th).
800–Megan Bosch (A), 2:32.23 (6th).
100 hurdles–Katie Petersen (AC), 15.77 (3rd); M. Daugherty (A), 15.97 (4th); Calea Jones (AC), 16.88 (6th).
3,000–Jeanne Peters (AC), 11:05.70 (4th).
400 hurdles–Ellie Wilson (AC), 1:12.95 (4th).
Discus–Sam Parr (A), 91-0.5 (6th).
High jump–Jones (AC), 4-10 (2nd); Hannah Loftus (A), 4-10 (5th).
Long jump–Mayberry (A), 15-1.5 (5th).
Shot put–Maxine Schulz (AC), 34-3.5 (4th).
Shuttle hurdle–Centennial (Meg Ridout, E. Wilson, Kayla Eilander, Sophie Lampe), 1:11.21 (3rd).
4×400–Centennial (Wubben, Vortherms, Pippett, Gray), 4:13.94 (3rd).