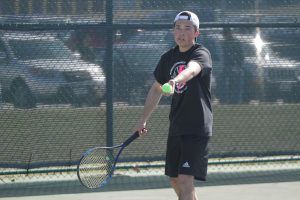 Ankeny boys' tennis coach Randy Daniels knew that it would be difficult for his team to duplicate last year's victory over Ankeny Centennial.
He was right.
The Jaguars won all but the No. 6 singles match and cruised to a 10-1 win over Ankeny on Thursday at the Prairie Ridge courts.
"I knew they were going to be tough," Daniels said. "I've known a lot of their kids for a long time. I had them (in my camps) when they were younger, and they've made tennis a priority and it showed. Hats off to them for hitting year-round, because that's what it takes."
Centennial avenged last year's 9-2 loss while improving to 2-1 in the CIML Central Conference and 5-1 overall. The Hawks' records dropped to 1-1 and 2-1.
"Last year we had our first loss ever to them, so to come back and win it feels awesome," said Centennial senior Sam Marold.
Marold posted a 6-1, 6-1 victory over Jayce Goergen in the No. 2 singles match. He then teamed up with Ryan Lofgren for another win at No. 1 doubles.
"We're really optimistic," Marold said. "We've got a new No. 1 (player) with our freshman, and he's been rocking it. The team is pretty solid, and it's looking good for the future."
Marold shared the No. 1 singles position a year ago with Jonny McGill, who graduated last spring. But he dropped down to the No. 2 spot this season following the arrival of ninth-grader Will Blevins, who rolled to a 6-0, 6-0 victory over Logan Scheer on Thursday.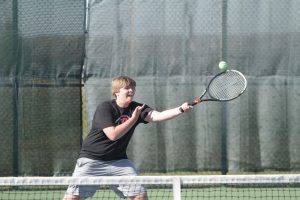 "I didn't know quite how good he was," Marold said of Blevins. "I had heard things that he was going to be good, and that I'd probably be playing 2–and I'm perfectly fine with that. He's just a great player and a great kid."
Centennial won five of the six singles matches in straight sets.
"It feels really good," said Centennial coach Tami Lewton. "We were a little disappointed with our performance last year, so we're excited to turn it around this year. We definitely talked about (getting) some redemption. We lost some pretty close matches last year, but the final score was 9-2 and it was painful. This feels much better."
Cameron Bush provided Ankeny's lone victory. He outlasted Joel Unick in three sets, posting a 10-8 triumph in the super-tiebreaker.
"For the amount of outdoor practices we've had, I thought we played ok," Daniels said. "In the six singles matches we were up in four of them. We ended up losing five of them, so something changed. I don't know if they just played better or if we got tight or nervous or what, but it was crazy how many deuce points we had–and that's what we needed.
"Yeah, you'd like to pull the win out, but we needed to play a lot of deuce points. That's the way we're going to get better," he added.
Here are the match-by-match results:
Centennial 10, Ankeny 1
Singles–Blevins beat Scheer, 6-0, 6-0; Marold beat Goergen, 6-1, 6-1; Lofgren beat Snyder, 6-2, 6-0; Densmore beat Schon, 6-3, 6-0; Cole beat VanRees, 7-5, 6-2; Bush (A) beat J. Unick, 4-6, 6-3, 1-0 (8).
Doubles–Marold/Lofgren beat Scheer/Goergen, 6-3, 7-5; Blevins/Densmore beat Snyder/Schon, 6-0, 6-2; Cole/J. Unick beat VanRees/Bush, 6-4, 6-3; Peterson/Tressel beat Parkinson/Davis, 7-6 (4), 6-1; DenAdel/A. Unick beat Lee/McCann, 6-1, 6-4.