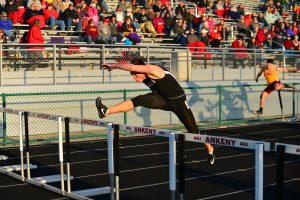 One can only imagine what Riley Moss could accomplish on the track if he decided to pursue that sport in college.
The Ankeny Centennial senior and Iowa football recruit raced to an easy victory in the 110 hurdles at the Kansas Relays on Saturday. He crossed the finish line in 13.91 seconds, breaking his own school record and setting a new Relays mark.
It also matched the all-time Iowa best that was set by Joah Banks of Cedar Rapids Prairie at last year's Class 4A state meet.
"My goal for the season was to beat my previous best of 14.38," said Moss. "Honestly, I didn't think I'd be able to get down under 14. I think I can go faster with better weather."
Moss ran a 14.05 to set a meet record in the Hi Covey Relays at Ames on April 12. He lowered his personal best by running a 14.01 in Friday's preliminaries, then broke the 14-second barrier in Saturday's final.
Moss won the race by almost half a second while posting the third-fastest time in the nation this year. Tyler Watts of Caney Valley (Kan.) was the runner-up in 14.34.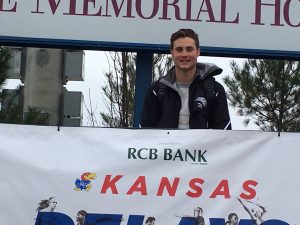 Moss, an all-state defensive back, initially committed to play football at North Dakota State. But when Iowa offered him a grayshirt opportunity, he changed his mind and decided to join the Hawkeyes' program.
Despite his success as a hurdler, Moss said he won't be changing his future plans again.
"I actually haven't heard from a single track coach yet this year," he said. "But I wouldn't change my decision at all just because I have a lot more drive and passion for football."
Centennial's Camden Cox placed second in the 1,600. He set a personal record of 4:19.96.
Centennial earned two other top-six finishes on Saturday. The foursome of Ryan VanBaale, Avery Gates, Josh Decker and Brendan Hoy placed third in the 4×200 relay with a time of 1:30.83.
The Jaguars later took sixth in the 4×100 relay in 43.78 seconds. That team consisted of VanBaale, Avery and Jensen Gates, and Decker.
On Friday, Centennial placed 13th in a true distance medley relay, which was contested under the college rules. The quartet of Jayden Oshirak, Hoy, Ahren Davis and Jonah Vicker was clocked in 11:05.65.