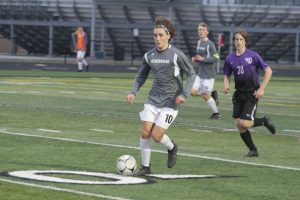 It doesn't really matter who scored the winning goal for the Ankeny Centennial boys' soccer team.
What's important is that the third-ranked Jaguars remained unbeaten with a 1-0 victory over No. 8 Johnston on Friday at Centennial.
"A win is a win, that's for sure," said Centennial coach Brian Duax. "We'll take it."
Centennial scored the game's only goal with about 8 minutes left in the first half. Cole Vincent fired a cross toward Nick Ashton in front of the goal, and the ball ended up in the net.
"I'm not sure if Ashton got a touch," Duax said. "There was some miscommunication between their keeper and their center back, and Nick was right there. I don't know if he got a touch or not, but I don't really care. It went in the goal, and that's all that matters."
Officially, Vincent was credited with his fourth goal of the season. He was assisted by David Guddall.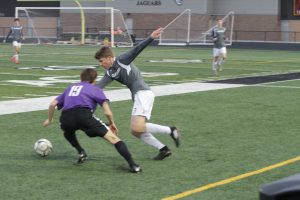 The Jaguars, who have allowed only five goals all season, posted their fourth shutout while improving to 7-0. Johnston's record dropped to 3-3.
"They got the ball in dangerous spots, but were never really that dangerous," Duax said of the Dragons. "I think our keeper (Cole Pankey) maybe had five saves."
Duax said Johnston was the better team for the first 25 minutes of the game. The last 15 minutes of the first half were pretty even.
After making some halftime adjustments, Centennial dominated the rest of the way.
"We created 15 shots on goal in the second half, but were just very unlucky not to break that game open," Duax said. "(The score) could have been a whole lot worse if we had finished some chances."
The Jaguars defeated Johnston for the second straight year. Last year's game went to a shootout.
"I knew Centennial had only beaten Johnston once in their existence, and I knew that because the boys told me," said Duax. "It was a big win mentally and spiritually for us."