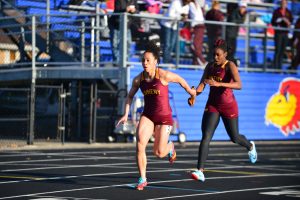 All four of Ankeny's track teams will be well represented at this week's Drake Relays.
The Ankeny Centennial boys' and girls' squads have both qualified in nine events. The Ankeny boys' team has qualified in seven events, while the girls' squad has qualified in six.
Centennial senior Ryan VanBaale will try to become a four-time placewinner in the boys' 100. He placed fourth in the event as a freshman in 2015, then took second in each of the last two years.
Teammate Riley Moss is the top qualifier in the 110 hurdles. He won that event at the Kansas Relays on Saturday in 13.91 seconds, which tied the Iowa all-time best set by Joah Banks of Cedar Rapids Prairie at last year's Class 4A state meet.
Centennial's Camden Cox and Ankeny's Tim Sindt will compete in both the 1,600 and 3,200. Ankeny's Jacob Baier also qualified in two individual events–he will compete in the discus and shot put.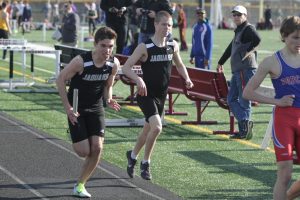 Ankeny's Jasmine Rumley has qualified in four girls' events–the 100, long jump, and 4×100 and 4×200 relays. She will be joined in the 100 by two of her teammates, Mytika Mayberry and Eva van de Mortel, as well as Centennial's Katie Saddoris.
The Jaguars qualified in all six of the girls' relays. They also qualified in three individual events and should have qualified for a fourth.
Centennial senior Betsy Ridout was expected to qualify in the long jump with a leap of 16 feet 11.5 inches. However, coach Andrew Kruzich mistakenly entered a mark of 16-10.5–and that one inch ended up costing Ridout a spot in the Relays as an individual qualifier.
"Any other meet we go to would make that change, but Drake doesn't. I know this. I screwed it up," Kruzich wrote in a blog post on the school's website. "I should have checked again and again until I found my mistake. It's what I signed up for when I took this job, but it's not anything I ever imagined would happen, even after over 20 years of coaching this sport. I'm beside myself with embarrassment and sadness, but please don't feel badly for me. Feel sorry for Betsy."
Ridout will still compete at Drake. She will run in three relays.
"Betsy is everything you'd want in a student-athlete on your track team: smart, tough, positive, hard-working, enthusiastic, and big hearted," Kruzich wrote. "But she won't be long jumping at Drake, and it's my fault."