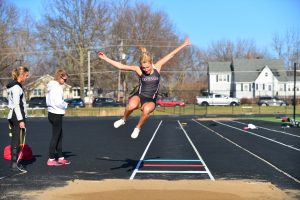 Betsy Ridout is a long jumper and sprinter for the Ankeny Centennial girls' track team, while fellow senior Meghan Trimble is a middle-distance runner for Ankeny.
Ridout won the long jump in the Chuck Silvey Invitational on Thursday at Urbandale, helping the Jaguars to a runner-up finish. Trimble placed 12th in the 1,500 for the Hawkettes, who finished third overall.
Here is some inside info on the duo:
How is the season going thus far?
Ridout: This season has been flying by. The team has been working really hard and has put out some great times. Individually, this has been by far one of my strongest years.
Trimble: I think it is going pretty well. I am a little bit further ahead than I was at this time last year, and I am hoping to see some more improvement throughout the rest of the season.
What has been the highlight for you?
Ridout: The highlight of this season so far has been the few warm meets that we have had. The better weather allowed us to drop our times and achieve numerous PRs. This makes all of the hard work and fighting through the miserable weather worth it.
Trimble: The highlight was getting my first 1,500 win in the season at Indianola and having the opportunity to run a couple of relays with my sister (Holly).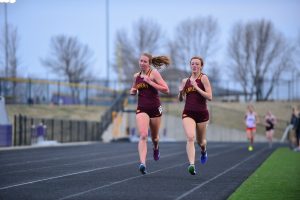 Of all the events that you compete in, which is your favorite?
Ridout: My favorite is the long jump. I love long jump because it challenges me differently than running does due to its technical components. Competing in an individual event is very rewarding when you do well.
Trimble: My favorite is the 4×800 relay because I enjoy working together with my teammates. It has been great to see some of the younger girls join the 4×800 team. We have been working really hard to improve our times. I think we could be in the running to return to state in that event.
Both of you have sisters on your team. What is the best part about having a sibling as a teammate?
Ridout: I love having my sister (Meg) on the team because she's my biggest fan and I am her (biggest fan). I sometimes get as many butterflies before she runs as I do with my own events. She knows how to calm me down or hype me up before a race. We share a love for running that brings us even closer.
Trimble: I have been fortunate to be on the same team as my sister in basketball and now in track. We work out together in practice, and it has been great to spend time with her. With this being my senior year, I am glad that I got to spend the time with her before I go to college.
Are you competitive with your sister?
Ridout: My sister and I are more supportive than competitive. This is probably because we don't necessarily run the same events. Her main event is the hurdles so I love watching her improve as the season progresses.
Trimble: Although we are in the same practice group as middle-distance runners, we do not really run the same races. She is more 200s and 400s while I am 800s and 1,500s.
Betsy, you have signed a letter of intent to run track at Morningside. What did you like about the school?
Ridout: I chose this school because I could see myself there as soon as I got on campus. Coach (David) Nash appears to have many of the same positive traits that I admire in my current Jaguar coaches.
What other schools did you consider?
Ridout: At first, I considered not even running and just attending the University of South Dakota. That quickly changed and it got down to two colleges to run for: Morningside and University of Wisconsin-La Crosse.
Meghan, you've been a three-sport athlete at Ankeny. Has it been difficult to juggle your academic and athletic responsibilities?
Trimble: Being in a varsity sport for the entire school year does have some challenges. There have been some late nights, and it doesn't leave me with a lot of free time. On top of that I work on weekends, but I like to stay busy and active so I try to work hard to manage my time and stay on top of school work.
What are your plans for next year?
Trimble: I plan to attend the University of Northern Iowa to study communication disorders.
Both of you are now gearing up for the Drake Relays. Can you describe what it's like to run on the blue oval?
Ridout: Running in the Drake Relays is such a cool experience, and it is so hard to explain all of the excitement surrounding this event! It's not something everybody gets to do so making it to Drake Relays and/or state is a big accomplishment. The blue oval is a fast track; I can't wait to run this week.
Trimble: It's a neat experience to run there knowing the history of Drake Stadium and all of the great athletes who have ran there. I love the atmosphere with all of the fans.
Is there an elite athlete coming to this year's Relays that you'd like to meet?
Ridout: I enjoy watching all of the elite and collegiate athletes competing, but I don't have one person in particular that I would like to meet.
Trimble: No, not really.
Goals for the rest of the season?
Ridout: Individually, a big goal I have had this season is to jump 17 feet in the long jump. I have jumped 16-11.5 so I'm very close, but I want to continue to work hard to break 17. As for relays, a goal is for one or more of my relays to finish in the top 10 at the state meet.
Trimble: My goals are to qualify for state in the 1,500 and 4×800 again and possibly another event.